A guest post by Angela Swieter, IBCLC, RN, BSN
Many mothers experience an extraordinary, unparalleled joy holding their baby in their arms for the first time. Bonding with baby makes months of preparation and discomfort fade away.

As a lactation consultant (IBCLC) and owner of Basking Babies, LLC, new moms frequently tell me they wish they had spent more time preparing and planning for breastfeeding. It makes sense. As an expecting mother, it can be overwhelming to face that to-do list to be sure you are prepared for the baby's arrival. And since many consider breastfeeding to be "natural", there is some misconception that it will be easy.
From my experience working with thousands of moms and babies, I can assure you that for some mothers that is the case, and for many others breastfeeding can be a struggle and a major source of frustration. Since breastfeeding is the most time consuming activity you will do with your baby, the best time to plan for successful breastfeeding is well before the baby arrives.
I'm sharing my top 10 Tips for Better Breastfeeding, accumulated from over 30 years of experience. And if your baby has already arrived (congratulations!), you may still find some of these tips helpful as you and your baby get into your groove.

Top 10 Tips for Better Breastfeeding
Attend a prenatal breastfeeding class – Ask your doula and medical provider if they have recommendations for local classes. We offer a BOOB Camp for
those in central Iowa that was created specifically to address concerns and questions we heard from years of experience with expecting parents. Your place of birth may also have classes.
Discuss your hopes, expectations, and plans with your partner or support person – Support is critical in helping you meet your goals so clear communication of your plan is important. Better yet, write the plan together!
Write a Breastfeeding Plan – Put into writing your hopes and expectations discussed above. Include breastfeeding best practices in your plan:
o If possible, breastfeed within an hour after birth
o Do lots of skin to skin
o Obtain a good latch
o Feed when baby shows hunger cues
Find an International Board Certified Lactation Consultant (IBCLC) – This is especially true if you have any health concerns. Your IBCLC can help you with your plan and may come to your home should you need assistance after the birth. Find an International Lactation Consultant Association directory in your area. Put your IBCLC's name, email, and phone number on your plan for easy reference for you and your support person once baby arrives.
Set up at least one "Nursing Nest" at home – It's important to have easy access to everything you might need while feeding. Things you might need:
o Comfortable, wide chair
o Pillows or breastfeeding pillow
o Snacks like granola bars, almonds, or fruit.
o A place for your pump
o Hand sanitizer or wet wipes
o Burp cloths
Prepare your breast pump – Check with insurance on breast pump coverage and once you've purchased one, become familiar with it before the baby arrives. Wash (along with milk storage bags and containers), assemble, and play with it, then put it in the Nursing Nest so it's there when you need it.
Purchase 3 nursing bras and purchase or make pads –Purchase bras that allow you a little extra room and purchase or make nursing pads. There are many disposable and reusable options out there.
Have helpful items on hand – Crushed ice in the freezer and cabbage in the refrigerator can be helpful in case of engorgement when your milk comes in. A good nipple ointment (I prefer a coconut-oil based) can be helpful for sore nipples.
Plan for healthy meals – Plan, shop, prepare, and freeze healthy meals for baby's arrival. It's crucial to keep your energy up with quality meals and it's also wonderful not having to think about meals once baby arrives. A friend
may also arrange a meal train for meals to be delivered to you!
Choose an app or way to track baby's feedings, stools, and wets. – Your
doctor and/or IBCLC may ask for this information at appointments so it's nice to have it on hand. Some moms find apps helpful. Other moms take out 8 diapers in the morning at 8 AM and note that if they're all used by the same time the next morning, the baby has likely had the number of wets and stools
needed.
BONUS TIP: Remember, things may not go as planned and that's okay. As a Plan B, you can always reach out to an IBCLC. My cupboard cures have also been known to help with common breastfeeding issues.
Breastfeeding is a wonderful way to bond with your bundle of joy. I offer this, not as a a check-list, but a menu of better breastfeeding tips you can pick from so you and
your baby can both enjoy this beautiful bonding experience nature has provided.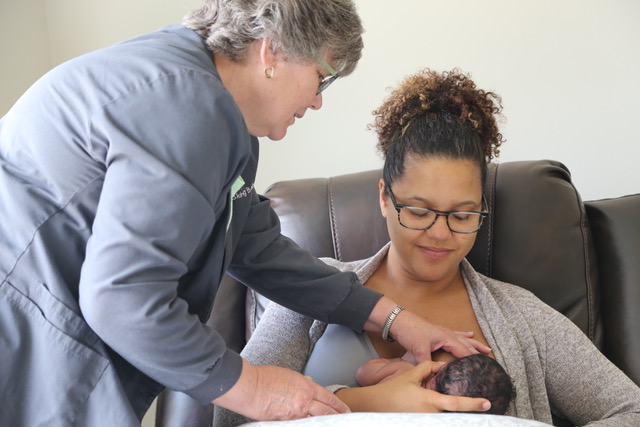 About the Author
Angela Swieter, RN, BSN, IBCLC, ICBD, ICCE, owner of Basking Babies, is a Registered Nurse, an International Board Certified Lactation Consultant (IBCLC) and an International Certified Childbirth Educator (ICCE). She is also a Doula (ICBD). She has been serving families for over 35 years.
Basking Babies, LLC offers:
in home or office consultations
classes for a positive breastfeeding (and beyond!) experience
baby weight checks
pre and post birth support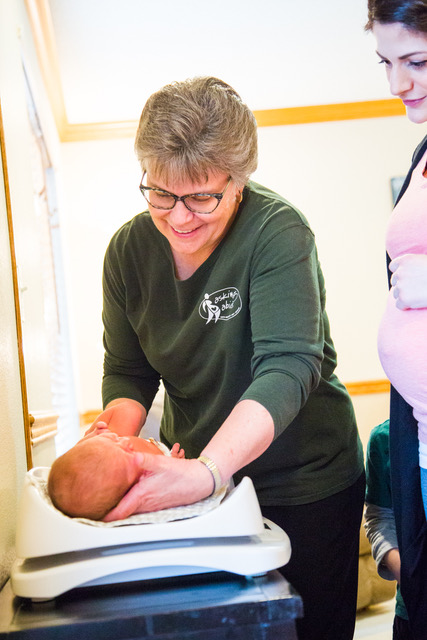 Contact Angela: [email protected] | 515-210-1868
Basking Babies – http://www.basking-babies.com/
Facebook – https://www.facebook.com/AngelaBaskingBabies/
LinkedIn – www.linkedin.com/in/angelaswieter
I am thankful for Angela, as she helped Dylan and I on our breastfeeding journey. Even though Dylan is my third baby to exclusively breastfeed, I wanted to set us up for success with the guidance and knowledge of an expert!
Angela helped make sure Dylan had a good latch, checked her mouth & gums for tongue/lip ties, and gave me some helpful tips/positions to help with nipple soreness, engorgement, & oversupply (this is first time I have experienced this). Angela is a wealth of knowledge, with such a tender & caring touch, she even came to my house for our consultation, just 3 days postpartum which was so helpful in my recovery! She followed up twice with phone calls to check-in, several days after our consult to answer anymore questions I had, and problem solve any more issues/concerns that came up.
If your local to the Des Moines metro area, I highly recommend Angela as a resource for breastfeeding help, no matter if its your first baby or 4th! She also offers education classes and other awesome resources on her website www.baksingbabies.com
For more helpful postpartum tips, what you really need in your hospital bag, wardrobe must-have's for the first month, plus outfit ideas to feel your best after baby. Make sure your following along on Instagram where I share daily style on a budget, healthy recipes, plus our life as a family of 5! I would love to interact with you over there 🙂
XO, Sarah