I know eating organic on a budget can be tricky, that is why we love to shop at Costco for several pantry and produce staple foods & ingredients. Costco is great for certain bulk items that can save you lots of money.
If you have a big family, do a lot of cooking or baking, and like to eat mostly organic foods, I hope this grocery haul from Costco will help you discover new foods to try or see how we are able to eat the majority of our foods organic and still stay on a budget.
Make sure to see my weekly grocery shopping haul & list of organic produce I buy!
I love Costco for amazing cheeses in large quantities
Costco is where I stock up on our favorite Vermont cheddar, goat cheese and mozzarella cheese (for our weekly homemade pizza's). The price for the quantity is hard to beat! This usually will last our family of five for 3-4 weeks.
Our refrigerator staples from Costco
We eat a lot of organic eggs every day, so buying them in bulk at Costco is bar far the cheapest I have found. We usually buy 2-3, two dozen containers of eggs for our family. $6 for two dozen organic eggs is hard to beat.
Eating and baking with grass fed butter is all that I use. The taste of Kerrygold is amazing, you won't want to go back to regular butter! Costco as the best price when you buy 8 sticks of this butter in one package. This also lasts for a long time and can be put in the freezer to keep for longer.
Our favorite plain, organic, greek yogurt is from Costco. It's super creamy, delicious, is full of protein and has the least amount of sugar of any plain organic yogurts I have found (only 4g per serving!) We love making parfaits w/ fresh fruit & homemade granola, adding it to smoothies and using it as a healthier substitute for sour cream.
Our organic favorites from the frozen section
We drink a lot of smoothies & love to make smoothies bowls around here almost daily. I stock our freezer with tons of frozen fruits, from wild blueberries, organic cherries, organic mangos, organic dragonfruit, to organic strawberries. Buying them in these larger bags is a lot cheaper at Costco.
We also love adding these wild blueberries (which are highest in antioxidents) to our power oatmeal each morning. Frozen fruits are also great for baking pies, crumbles & muffins.
Costco has the meats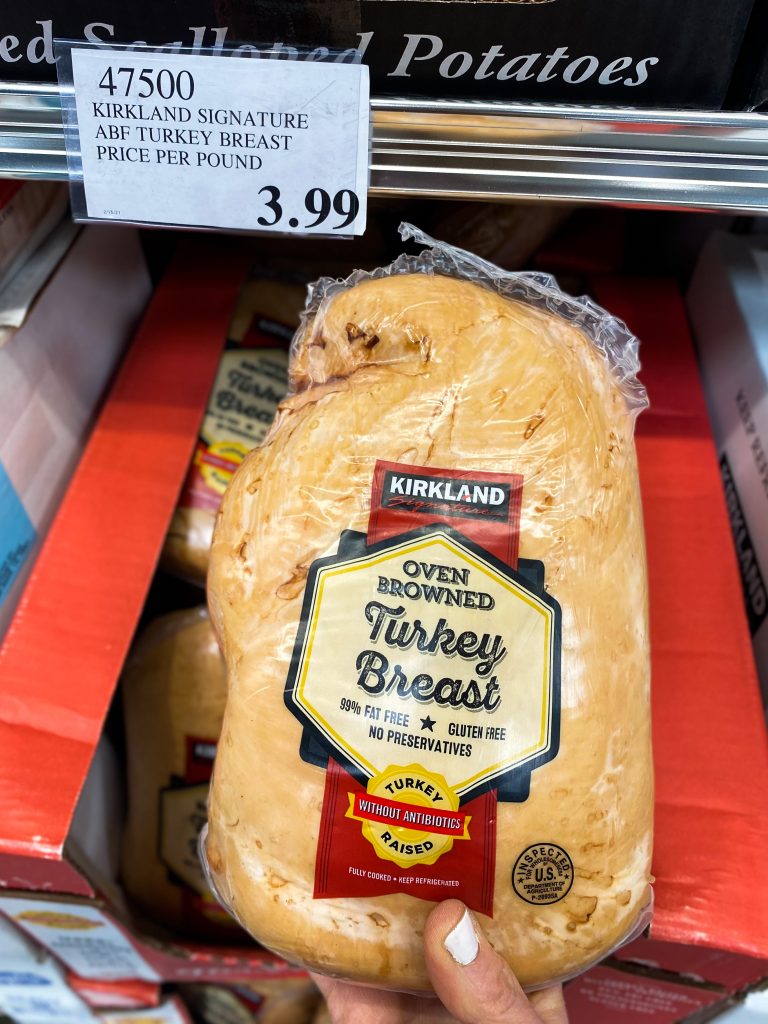 This oven roasted, whole turkey breast is amazing and without any antibiotics or preservatives like a lot of lunch meats. If you like deli turkey this is healthier version and tastes amazing. We like to use this turkey meat on sandwiches (hot or cold) on top of salads, sliced on a charcuterie board with some cheese, nut and fruit.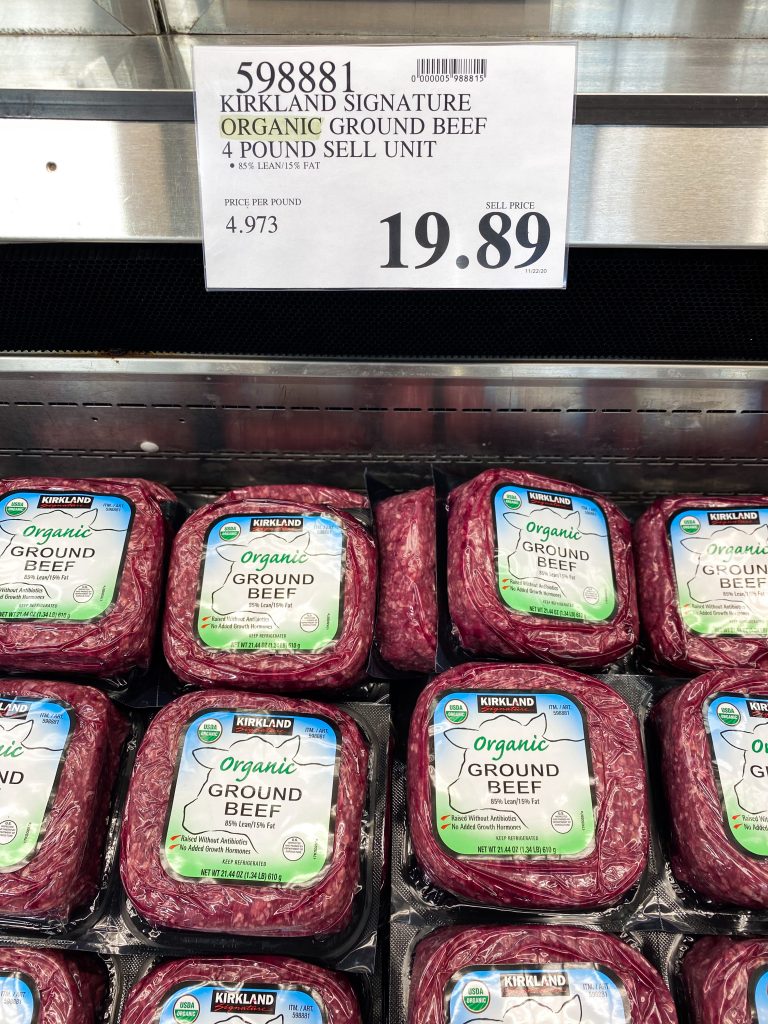 If you have a large group to feed than they have a great grass-fed beef selection as well as organic bison meat. I also like to occasionally get a rotisserie chicken for any easy meal (enchiladas, soups, salad, pizza) then I cook the caucus and bones to make my own bone broth. See my homemade chicken bone broth soup recipe HERE
My organic baking & pantry staples
Organic quinoa for
Almond flour for baking GF recipes
Organic olive oil for cooking, sautéing, and baking
Organic hemp seeds (a complete plant protein)+ organic chia seeds that I add to oatmeal, smoothies, on top of toast, salads, cooked dishes. I basically add them to everything for added omega's, protein & fiber.
GF sprouted oats. These are the best I have found, for the quality (these are glyphosate free) for the price. I also grind these oats to make my own oat flour. It's much cheaper to buy in bulk and make yourself.
Organic peanut butter. We go through a lot of peanut butter in our house! We add it to just about EVERYTHING. I like that the Kirkland brand on has just two ingredients: organic peanuts and sea salt.
Organic coffee. I am a coffee LOVER! This Cameron's brand is really good & is free of all the nasty pesticides & additives. PLUS this huge bag of whole coffee beans is only $8.99!
Unsweetened Macadamia Milk. We use this for oatmeal, in our smoothies, in my homemade lattes. We do not drink cows milk and love the taste of this nut milk + the added health benefits of drinking it.
Organic bread. We love Dave's Killer Bread! It comes in 2 loaves & is a great price. I like the freeze one loaf for it to last longer.
The kids favorites
I like to have Annie's organic macaroni & cheese on hand in the pantry for a quick and easy meal for the kids. This variety packs lasts us months.
These organic sweet potato crackers so soooo good. For snacking, paired with cheese. If I am going to have snacks for the kids I like to keep them as clean and healthful as possible.
Tortilla chips are a family favorite treat to have in the pantry. If I buy them, I want them to have the best ingredients possible. This Siete brand is really good and a great gluten free option. They are usually pricy to buy at the regular grocery store, and a lot cheaper for a big bag at Costco.
The Fun Extra's
Sprouted pumpkins seeds for salads, granola, fancy toast. They are sooo good and chalk full of zinc, potassium & iron!
Walnuts are the BEST kind of nut you can eat. Full of omega's, healthy fats & food for your brain. I like to add them to our salads, oatmeal, & to snack on. Nuts are expensive, so buying them in bulk is more budget friendly.
Organic unsalted cashews. Again these nuts can be expensive, so a 40 oz. container is a good price.
These almond flour crackers are a yummy GF snack option. I like to stock our pantry with simple and healthy snacks we can all eat and know are good for us.
I hope our Costco favorites grocery haul helps you try a few new things the next time you are there shopping, as well encourages you to try switching to more organic foods and doing it without breaking the bank.
Make sure you are following me on Instagram where I share in stories, simple, clean recipes to feed your family, encouragement in your motherhood journey, a dose of real life as a momma of three littles & helpful ways to simplify & elevate your style.