With all things fall right around the corner, I am sharing my delicious and simple, gluten free pumpkin bars recipe. These are the perfect fall treat for after school, or an easy dessert to bring to your next get-together. These are gluten free, and easy on the sugar, but loaded with rich flavor and moistness. Making these pumpkin bars a tasty treat you don't feel guilty enjoying.
Check out my other fall favorite recipes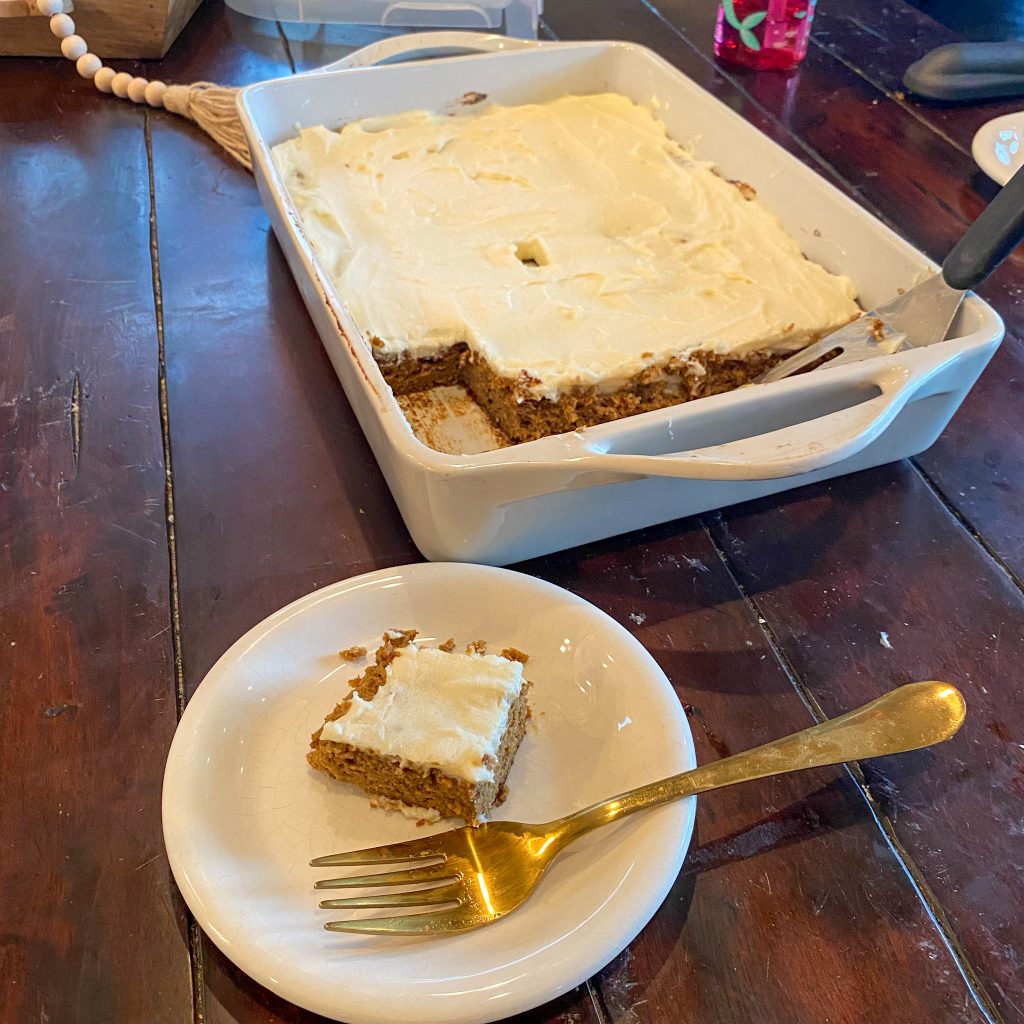 Here's what you need to make these GF pumpkin bars:
3 large eggs
1 cup coconut sugar
1 cup of unsweetened apple sauce
1 can of organic 100% pure pumpkin
1/2 cup coconut oil
2 cups almond flour
1 teaspoon baking soda
1 teaspoon arrowroot powder/starch (replaces baking powder)
1 teaspoon sea salt
3 teaspoons cinnamon
1/2 teaspoon nutmeg
1/2 tsp ginger
Mix the eggs, coconut sugar, apple sauce, pumpkin, coconut oil (room temp). Then add in the almond flour and the rest of the dry ingredients. Mix until smooth.
Place in a greased 9×13 pan (I like to use coconut or avacodo oil spray). Preheat oven to 350 degrees. Bake for 40-45 minutes.
Cream cheese frosting:
1 8 oz. package or cream cheese (room temperature)
1/2 cup of grass fed butter, softened
2 tablespoons of nut milk (I used almond)
2 teaspoons vanilla
1 cup monk fruit sweetener (or whatever sugar you prefer)
Mix all the ingredients until smooth. I like to use my kitchen aid mixer to whip up this frosting.
Gluten Free Pumpkin Bars
Allow the pumpkin bars to cool (1-2 hours) before spreading the frosting on top. Cut into small or large squares as preferred. Serve warm or chilled. Make sure to refrigerate leftovers, since the frosting is cream cheese. Enjoy!
For more easy fall recipe recipes, make sure you are following me on Instagram!