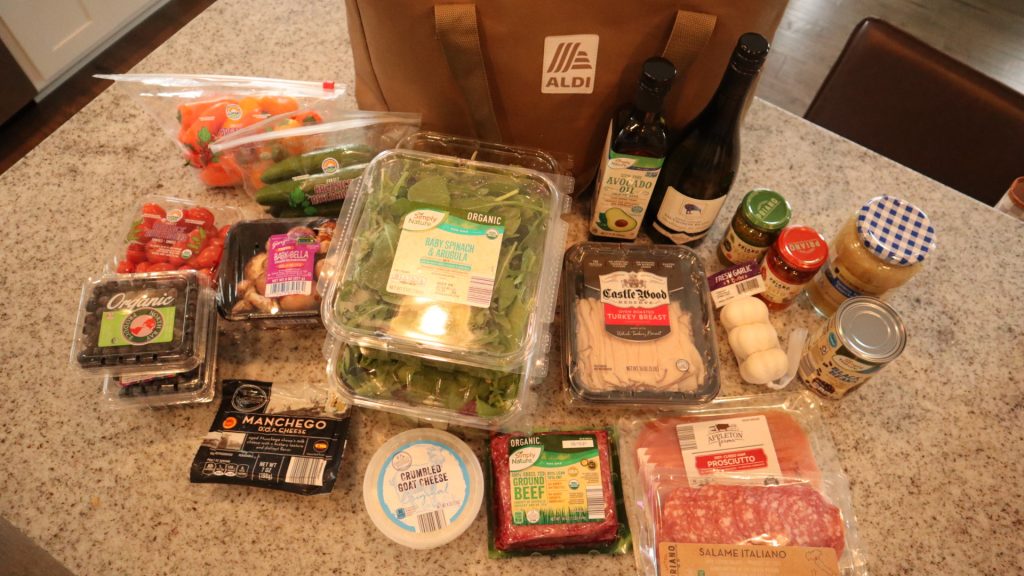 Sharing our Aldi favorites because I know eating organic on a budget can be tricky. Aldi is where I shop weekly for most of our family of five's groceries. It allows us to eat mostly organic, real foods and still stay on budget.
The first place I head to at Aldi is the organic produce section. This is where I buy the bulk of our weekly food. A variety of fruits and vegetables. The prices for organic produce at Aldi are hard to beat! I also love how they have a variety of seasonal selections, another way to eat organic on a budget.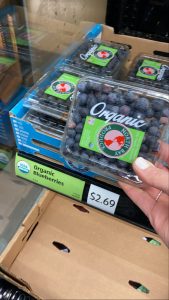 Stocking up on berries (blueberries, strawberries, black berries) is a must for our family, they are a favorite for the kids. Topping for our oatmeal and desserts. They are always cheapest in season…so come spring/summer we eat a LOT of berries.
We eat a lot of greens,! Specifically spinach, arugula, & kale. I make some kind of salad daily, plus we put it in our smoothies to ensure we are all getting as much magnesium, calcium & potassium as possbile (all of these are found in dark leafy greens).
Fresh Tip: You can freeze your kale & spinach to help them last longer & add it to your smoothies
Our Aldi Favorites: Fresh Produce Round Up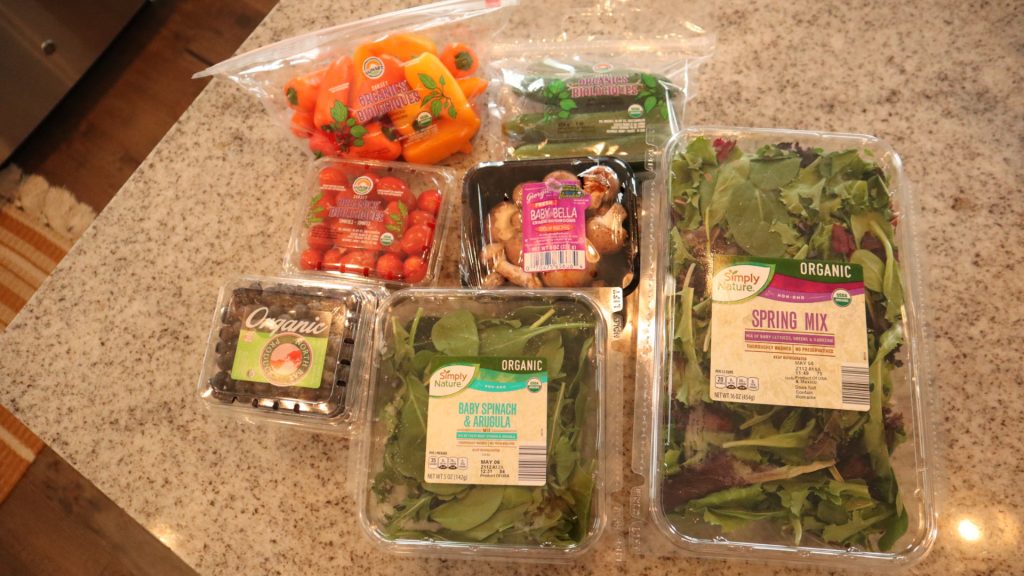 Here is a good example at what fruits & I buy weekly for our family of 5:
organic peppers (a mix of red, yellow & orange)
baby Bella mushrooms
Spring salad mix
spinach & arugula
organic cherry tomatoes
organic mini cucumbers
organic blueberries
organic apples
sweet potatoes
yellow onions
fresh garlic
organic avocado
banana's
clemintines
Brussel sprouts
asparagus
Again this can vary depending on the season, but this is the bulk of our weekly grocery budget from Aldi.
Specialty Cheeses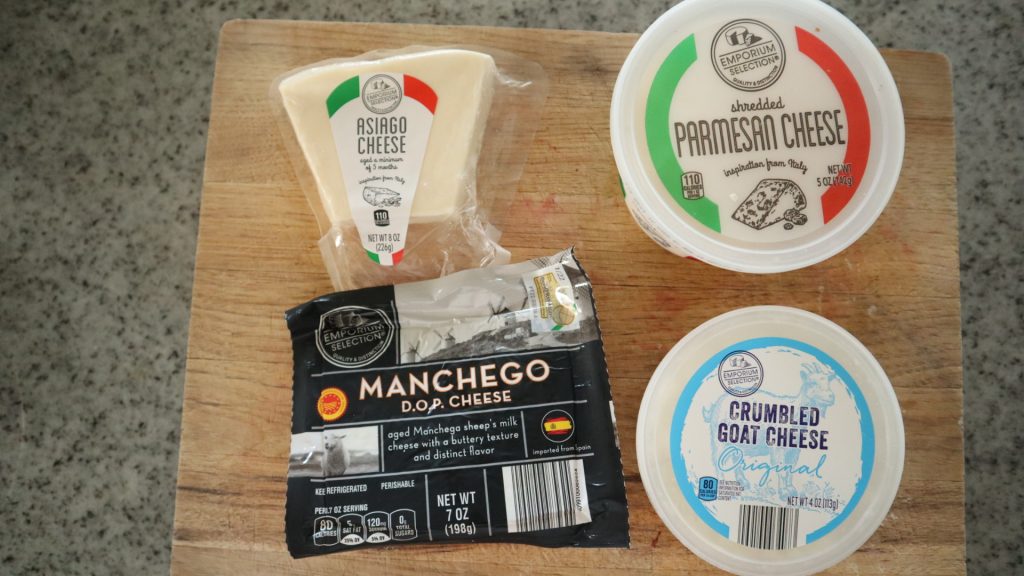 Next I head to the cheese section at Aldi. They have the best assortment & variety of specialty cheeses. Our favorite is goat cheese! I literally put it on everything. We don't eat a lot of dairy, with the exception of Friday night pizza night, when we load on all specialty cheeses, parmesan, asiago, goat and mozzarella. We prefer to eat goat cheese or sheep's milk cheese, as it is easier to digest than cow's milk cheese.
Aldi is also my go-to place for cheeses when I want to create a special charcuterie board. They have the best prices for the selection!
Organic Grass-fed Beef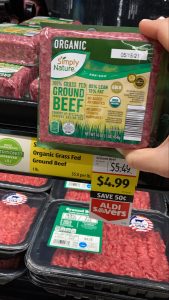 Organic grass-fed beef from Aldi has the best price, only $4.99!! We make a lot of burrito bowls, burgers, quiche, chili, enchiladas. So I stock up on grass-fed beef and always have some in my freezer so I never run out.
Are favorite pizza sauces from Aldi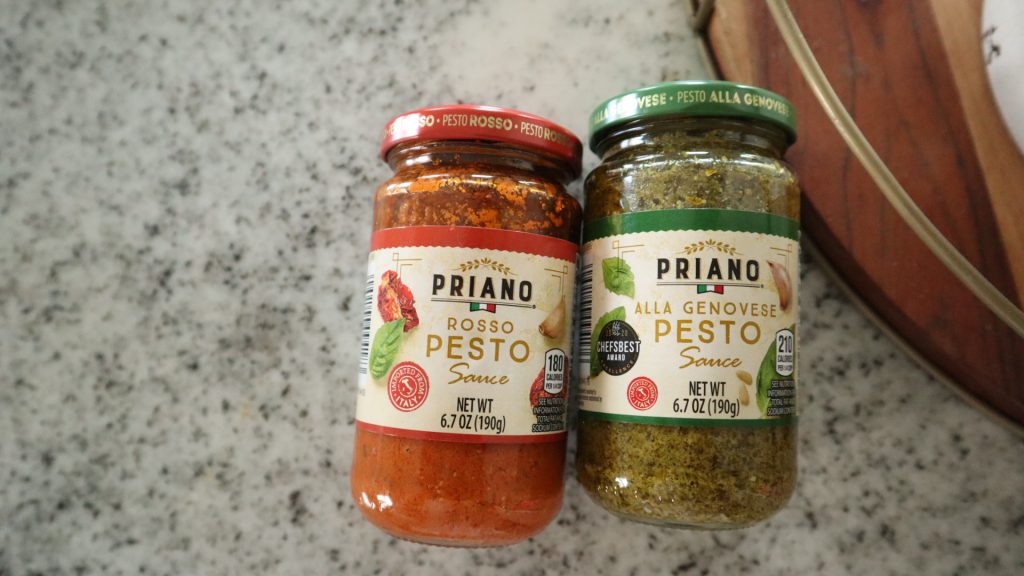 Our favorite pizza sauce (every Friday night) is this amazing pesto sauce! It is also great for adding to fancy toast, crackers & cheese on a charcuterie board and pastas. It is super flavorful.
Aldi Meal Makers
Quinoa and red lentil pasta are staples in my pantry. Having them on hand as easy add tons of protein and fiber. We make a lot of bowls in our house…so these are two are staples in those dishes. I like to make a variety of plant based and meat filled dinners to keep a variety of tastes and ingredients in our pallet each week.
Tip: I like to add quinoa to some of my meat dishes (chili, lasagna, enchiladas) to make them go further and add more plant based protein. If you have a lot of mouths to feed this is a cheaper way to make the meal go further and get added protein in the food.
Pantry Staples
Bone broth and organic beans are other staples in my pantry year around to create lots of different meals. These are great for making crock pot meals.
Tip: I use organic bone broth to cook all of our brown rice, quinoa & lentils, instead of water! The grains soak up all the good nutrients from the bone broth making them more nutrient dense.
Our Aldi Favorites: The Fun Extra's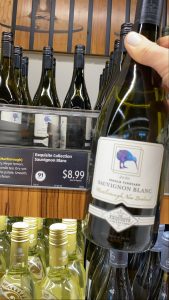 The selection of award winning wines for under $10 is amazing! This is my current favorite white wine these days, a Sauvignon Blanc from Marlbrough, New Zealand (the best grapes in the world for a Sauvignon Blanc).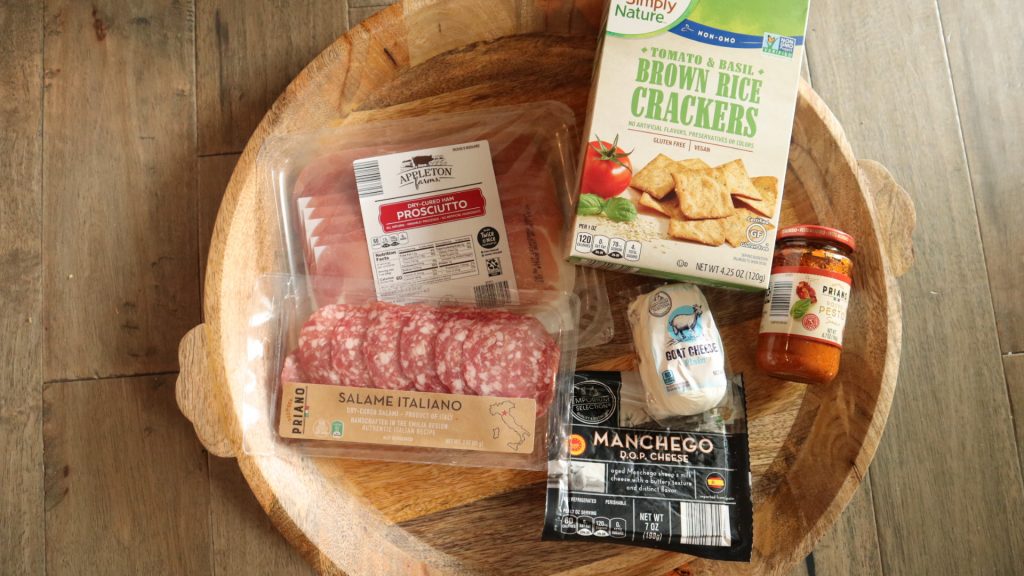 Our Aldi Favorites For Easy Entertaining
Anytime we are entertaining friends or family I love creating a simple, yet elegant cheese, meat board board. Grab a bottle of wine, some pesto sauce, crackers, nuts, fruit, some of Aldi's unique cheeses and meats and you are all set. Talk about a no-brainer.
An Easy Dinner Recipe with our Aldi Favorites
Follow me on Instagram for more grocery hauls, what we eat in a day, easy recipes + wellness tips .