I'm sharing this easy dinner, because I get it, weeknights are busy! This beaf, bean & quinoa enchiladas is the perfect easy, weeknight dinner to gather your family, slow down & enjoy with minimal effort! Or take on the go if you're between practices, meetings, & kids games.
These can be gluten free if you use corn or GF tortillas. This recipes take under an hour to prepare and bake! Hello easy!
These amazing enchiladas are packed with protein & tons of flavor. They are super filling and taste even better the second day as leftovers. This dish also makes a great freezer meal or something to take to friends who just had a baby or someone who needs some cheering up with some healthy comfort food.
Easy Dinner: Beef, Bean, Quinoa Enchiladas
You can make these enchiladas ahead of time, earlier in the day, then just cover & put in the refrigerator. Then take out to bake for 30 minutes, before you're ready to serve & eat.
Here is what you will need to make these beef, bean, quinoa enchiladas…
-1 lbs grass fed beef
-1 can of black beans
-1 C. quinoa
-1 yellow onion (chopped)
-1 pepper (I love red or yellow) (chopped)
-2 gloves of garlic (minced)
-2 jars of green enchilada sauce ( we love a lot of sauce on ours)
-1 C. plain greek yogurt
-1C. goat cheese (goat cheese is lower carb & easier to digest if you have sensitivity to diary!) (We LOVE the flavor!)
-1 tsp. salt
-1/2 tsp. ground pepper
-1Tbs. cumin
-1Tbs. chili powder
-2-3 C. shredded cheddar or Colby jack cheese
Cook one cup of quinoa (see package for cooking instructions). I like to cook mine in organic chicken or bone broth for added flavor and health benefits.
While your quinoa is cooking (about 20 minutes), chop your onions, pepper, garlic. Sauté them in olive oil, over medium heat. For about 8-10 minutes until they are soft.
Preheat your oven to 375 degrees.
Brown your meat, then add it to the veggies mixture. Add in the salt, pepper, cumin, and chili powder. Add about 1 C. of the green enchiladas sauce to the mixture as well.
Then add your cooked quinoa, greek yogurt, goat cheese, and mix it all together, letting the goat cheese melt. The greek yogurt & goat cheese will make your enchiladas very rich and creamy, plus some extra protein!
Add the mixture into each tortilla (about a half of a cup). This is enough for about 8-10 medium sized tortillas. Simply roll each up (like a burrito), then place in a 9×13 baking dish. Make sure to cover your baking dish with coconut oil, or avocado oil, first before you lay down the enchiladas.
Once all your tortillas are filled, rolled, & placed in the baking dish, pour the remaining jar(s) of enchiladas sauce on top ( we like a lot of sauce, that's why I add two to this recipe). Top with cheddar cheese.
Bake at 375 degrees for 25-30 minutes (cheese should be melted & slightly browned)
Let cool for 5 minutes before serving.
Enjoy!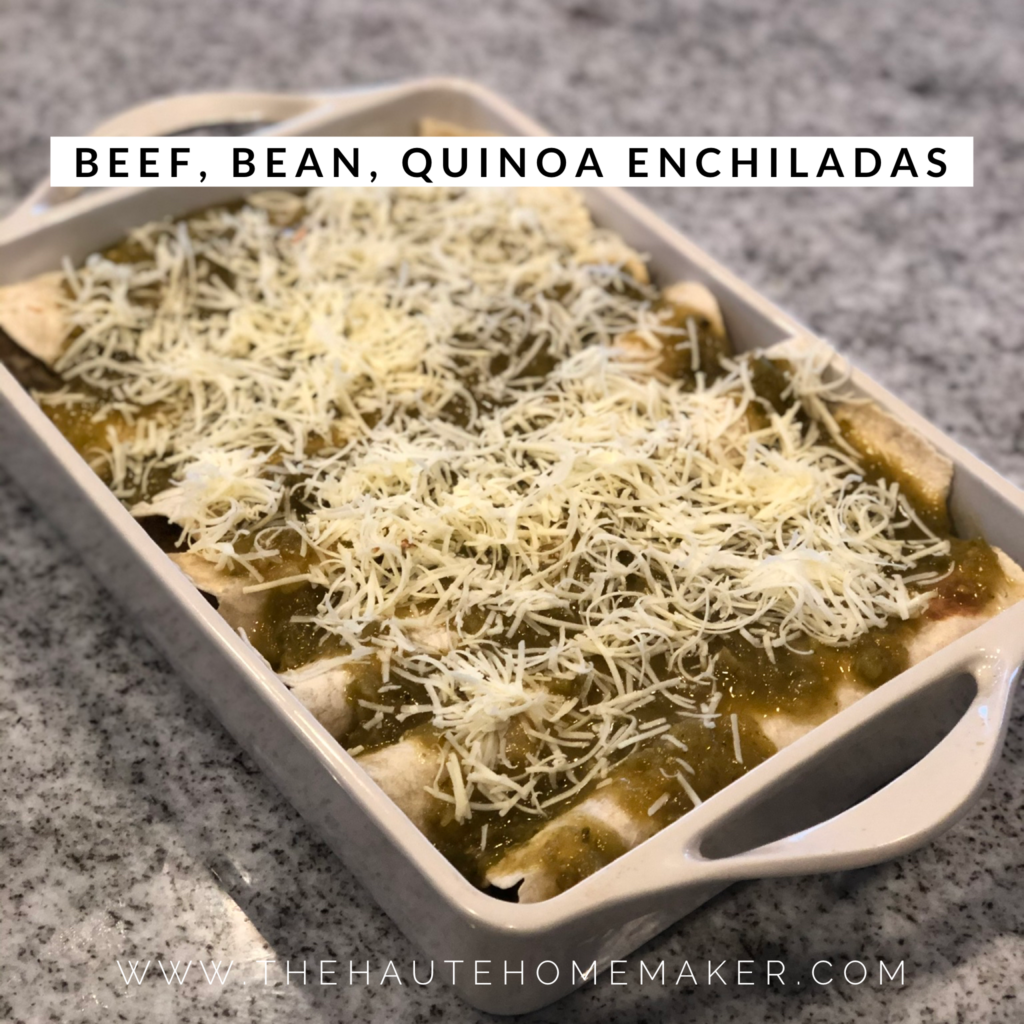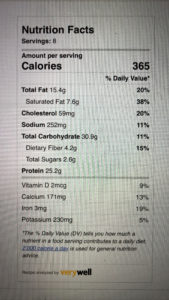 I would love to hear if you try to make this super easy, and protein packed dinner for you and your family?! Send me a DM on Instagram, so I can share it to my stories. Or leave me a comment below.
If you are looking for the perfect homemade dessert to pair with this dinner…check out this recipe!
Happy cooking my sweet friends. I love being able to share our favorite family recipes to help make your busy day run a little smoother & dinner time be a little bit easier & more delicious!
XO, Sarah