I know eating organic on a budget can be a challenge, that's why we love to shop at Trader Joes for several pantry and produce staple foods & ingredients. Trader Joes also has so fun, unique and tasty takes on healthy foods, plus I love their fresh flowers and seasonal goodies that are all budget friendly.
Trader Joe's is the place I go if I'm hosting a get together, holiday party, if I'm creating a special charcuterie spread or wanting to try something new & different in our dinner rotation. There are also several staple items I like to make sure I have stocked in my pantry and refrigerator every week.
I hope this grocery haul from Trader Joe's will help you discover new foods to try or see how we are able to eat the majority of our foods organic and still stay on a budget.
Make sure you see my weekly grocery shopping haul & list of organic produce I buy! Plus what we buy at Costco to eat healthfully and still stay on budget for our family of five.
How I shop organic + stay on budget for our family of five at Trader Joes
I always start in the floral section right at the front door. I love buying fresh flowers or greenery for my kitchen table, and I can do inexpensively. It is amazing what a few fresh flower can do for your table scape. I also love to buy their fresh herbs (depending on the season) to have on my window sill for cooking & garnishes.
Here's what's always in my cart at Trader Joes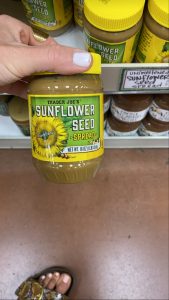 Organic ezekiel bread (its sprouted, loaded w/ nutrients & easier to digest vs. regular bread
Gluten free tortillas (made from quinoa) for sandwhich wraps, quesadillas & enchiladas.
Organic Rainbow carrots ( the purple carrots are my favorite)
Organic mushrooms (they have the best selection of specialty mushrooms that I love to cook with…shiitake, baby Bellas, portobellos)
Flowers for my table & island (I love eucalyptus's lovely aroma, & simplicity, in a glass vase for an elegant table scape)
Cruciferous Crunch salad mix (kale, Brussels sprouts, broccoli, green & red cabbage)
Riced cauliflower stir fry (in the freezer section) I love having this stocked in my freezer for an easy dinner, just add some chicken or beef.
Goat cheese (we love the gouda) they have the best selection of specialty cheeses for a charcuterie spread or party!
Organic bbq sauce (they usually have different flavors depending on the time of year) they are THE BEST for burgers, or crockpot chicken.
Organic cacao chips for baking cookies, homemade brownies, açaí bowls, & dessert smoothies. These have no added sugar & made from 100% cocao beans (a superfood full of antioxidants).
Organic super fruit spread (for PB & J sandwiches) a favorite in our house. These have no added sugar & tastes amazing on fancy toast too.
Organic tahini is what I use to make our homemade hummus (see below for my easy recipe!)
Sunflower seed butter, cashew butter, almond butter, they have a great assortment of nut butters & are a good price. Sunflower seed butter is a great alternative to peanut butter for food allergies (and is allowed in nut free facilities like public schools).
Black rice, farro grains
Wine made from organic grapes. They have a fantastic selection of wine for under $10! This is my go-to place for good & budget friednly wine's for a dinner party or holiday meal.
My homemade garlic hummus recipe:
The next time you are hosting a get together, or wanting to try an easy & healthy snack that tastes amazing for you or your kids, make this easy garlic hummus recipe.
Ingredients:
1 can of garbanzo beans (chickpeas)
the juice of 1/2 fresh lemon
4 cloves of garlic
2 TBS of organic tahini
1/2 tsp sea salt
1/2 tsp dried basil
1/2 tsp fresh rosemary
1/4 cup water
Blend in a food processor until smooth. Serve with fresh veggies, crackers, or spread on some fancy toast, or sandwiches. Makes about 2 cups of hummus. This is definitely a crowd pleaser for parties, as as a healthy lunch or snack time option. My kiddos gobble it up!
Making your own hummus is an easy way to save money, since a container of organic hummus usually runs $5-6!
Make sure to follow me over on Instagram where I share easy & healthful recipes to help you feed your family and create a life giving home.