Thanksgiving is just two weeks away! I am definitely a lover of this holiday….gathering around a decroted table with family & friends, eating delicious, home cooked food, and sharing stories about what your thankful….it is truly a special time of year, one worth savoring & enjoying before the start of the Christmas holiday. So, I want to share some simple ways to create a memorable, festive, Friendsgiving feast, to help you celebrate and savor Thanksgiving.
Since moving to Iowa, 2 years ago from Colorado, my mother-in-law hosts that whole side of the family for Thanksgiving (which is a large group, marrying into a family of 8 kids!).
Hosting and entertaining is something I LOVE to do, (acts if service & hospitality are one of  my love languages)….and since I no longer host the Thanksgiving Day gathering, I love the idea of hosting a Friendsgiving gathering. It is a great way to be intentional with friends during this busy holiday season, and open up your home to celebrate the season of thankfulness.
You might be thinking "how in the world do I find the time to put together a party like this with all that I have going on right now?" Well let me guide you through planning an easy, and worth while celebration that will bring so much joy to you, your family, and your friends.
Set a Date and Send Out An Invitation.
Or create a Facebook event to invite your friends, then post the date, and give all the details of the gathering (time, location, attire, menu),  ask teach guest/couple/family to bring 2 dishes to pass.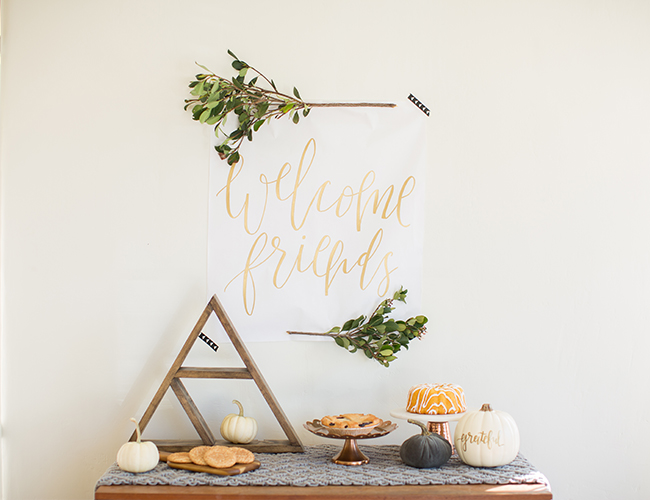 Plan The Menu
If you are wanting to serve more of a traditional meal, as the hostess you should provide the turkey, stuffing, and gravy…and table scape. Ask friends to being the contribute to rest of the fest.
You can plan your freindsgiving gathering, by asking each guest/couple to bring a designated dish, serving the food buffet style. The secret is for you the host, to choose the items that YOU want to cook, for example the main dish, or the "bird," you will have covered, then ask your friends to fill in the rest of the slots on the menu. You can ask each guest if they have a transitional or special family recipe they would like to bring also.
Make sure to specify how many people are coming (including kids) so they know how much to make for each dish. Ask if there are any dietary needs, that way EVERYONE can enjoy the food, and feel included.
Hire a Babysitter To Help With The Kids
If you are wanting to invite your friends and their families (we have toddlers & so do our friends), then hire a babysitter to help entertain the kiddos while the adults enjoy dinner. Have a fun kid zone in another area of the house for them to eat, and play so your friends can enjoy kid free conversations and a meal. Ask each family to chip in a few $ to cover the cost of childcare for all the kids. Rent a fun holiday movie, have a craft/coloring station set up to occupy the kiddos. Either way, having help from a babysitter will ease the stress of hosting, freeing you up to enjoy time with your adult guests!
Create a Thankful Board
Create a thankful board either on your table or on the wall for your friends to write what they are thankful for this year….after all that is the whole reason for this holiday, to take the time to reflect on what we are thankful for! This is a great way to get meaningful conversations going around the table.
A Thankful board would be super easy to make using brown craft paper and a permanent marker, and craft tape.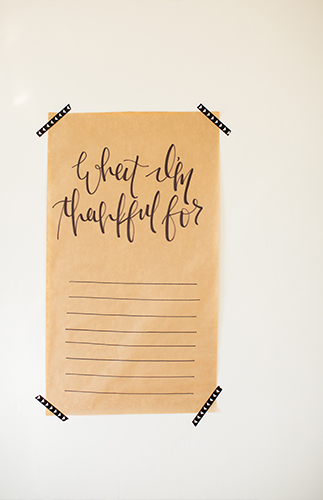 Or make it apart of your table scape.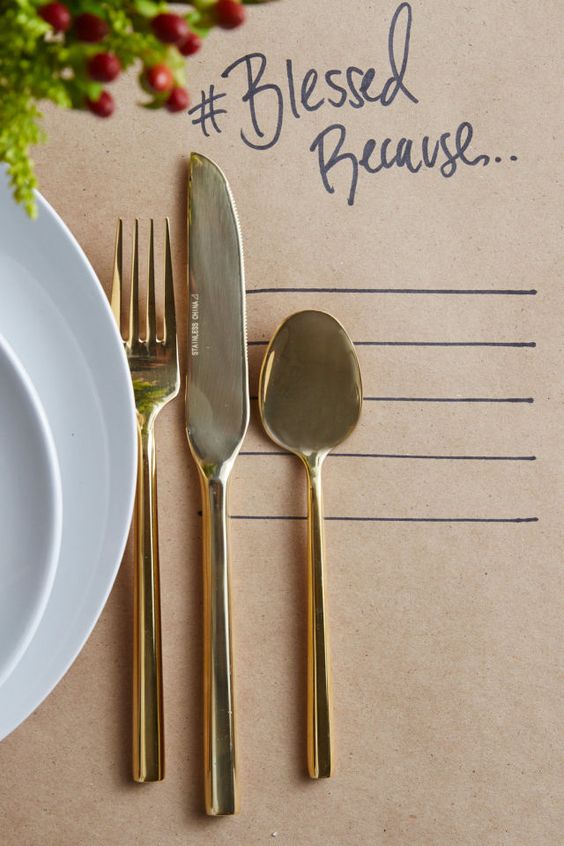 Sit Back And Enjoy
Don't forget to sit down and enjoy your time with your friends. I know as the hostess I feel the need to be doing everything and focusing too much on the details. Remember your just facilitating this gathering….providing a table, utensils, some of the meal, and maybe a few decorations for this party. The whole point of this celebration is to be with friends, who are like family, and enjoy quality time together, NOT stress about the details (I am preaching to myself here).
It's okay to let your guests help with dishes when the party is over. Sometimes hanging out in the kitchen is where you really get to know your friends/guests.
Give Leftover Containers As A Thank You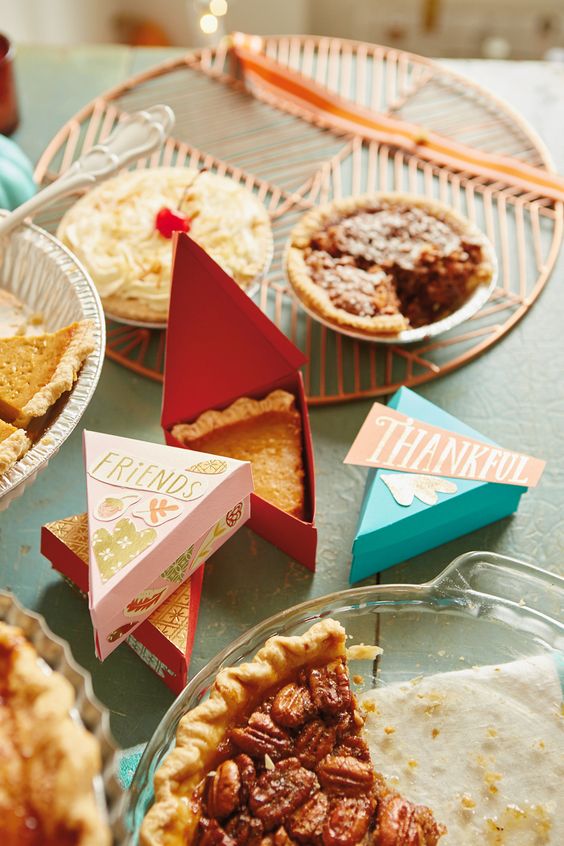 I love having these paper to-go containers to give to guests to wrap up their leftovers for the next day. It's a festive, and kind gesture to give your freinds before they leave.
I hope this inspires you to gather your friends around a table, to savor the flavors and beauty of the season, and experience heartfelt gratitude for all those in your life!
I would love to know if you are planning to host a Friendsgiving gaterhing this year? Leave me a comment below.
Blessings, Sarah