The winter season is almost here! Which means its time to break out the sweaters, vests, hats, scarves, ect….but "how do I put it all together?"… I am asked this question a lot! So I am to sharing some of my styling secrets for easy layering this winter. Let me help you look polished, put together, and not look bulky and feel uncomfortable.
Boots / Leggings / Strip Top / Cardigan /Leopard Scarf
* My tried and true "momiform": Start with the right basic pieces… A long sleeve top (black and white stripes are my favorite and go with everything), a basic bottom ( black leggings or jeans), then add a cozy cardigan sweater. I love this look because its neutral, goes with anything, and easy to throw on and go. It looks put together with minimal effort!
* For more warmth and layers, I added this super soft leopard print scarf, that not only keeps your neck warm, but it adds pattern and a chic edge to this basic outfit. Then adding rain boots to keep your feet warm and dry (you could layer with boot socks for extra warmth) is a great way to add polish to this look.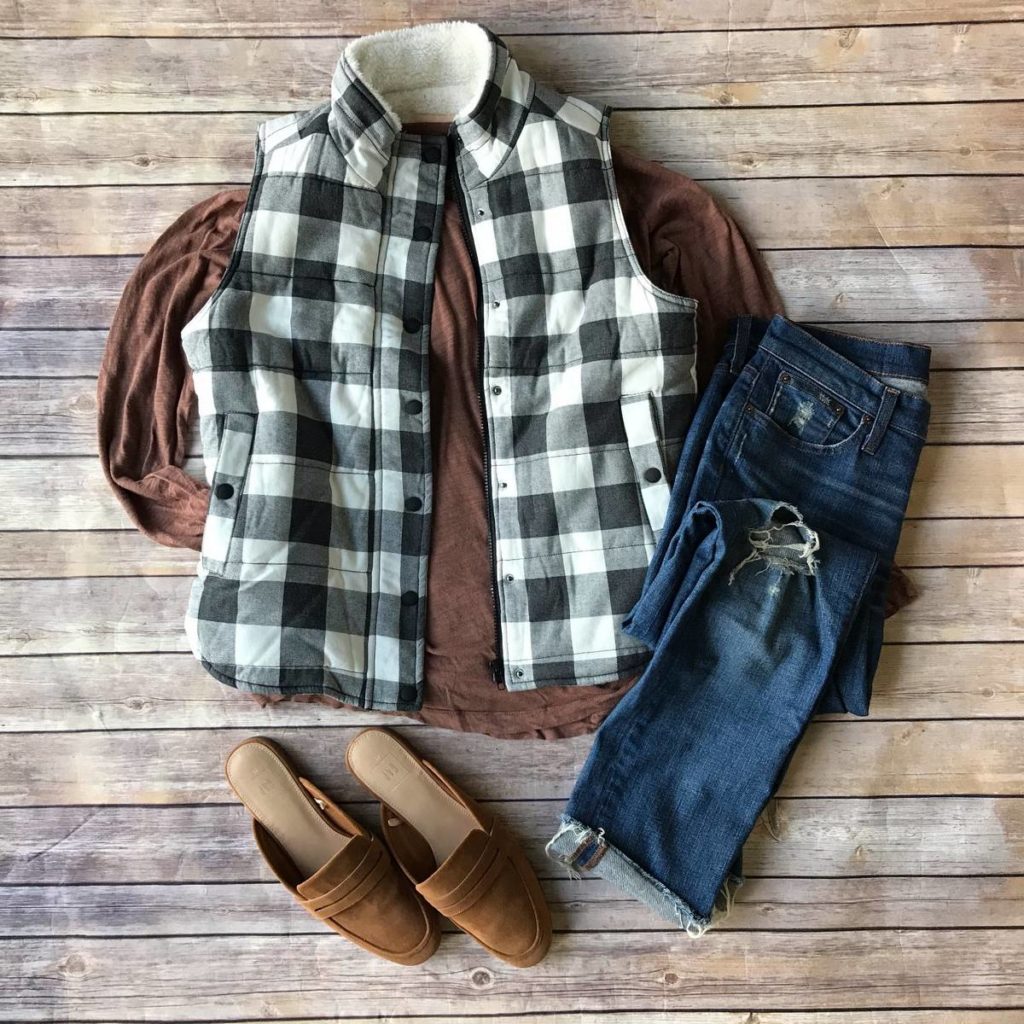 Vest/ SimilarTop / Jeans /Mules
* A vest is a great layering piece to add to any look this winter! Dressis up or down, it adds texture, warmth, and pulls together any outfit in seconds! I love this casual look for everyday, or a weekend look. Start with a long sleeve tee, or if its really cold a basic pullover sweater. I am loving the rust color of the top, paired with the buffalo print vest, and distressed high waist jeans. To add a touch of polish I paired this look with brown suede mules.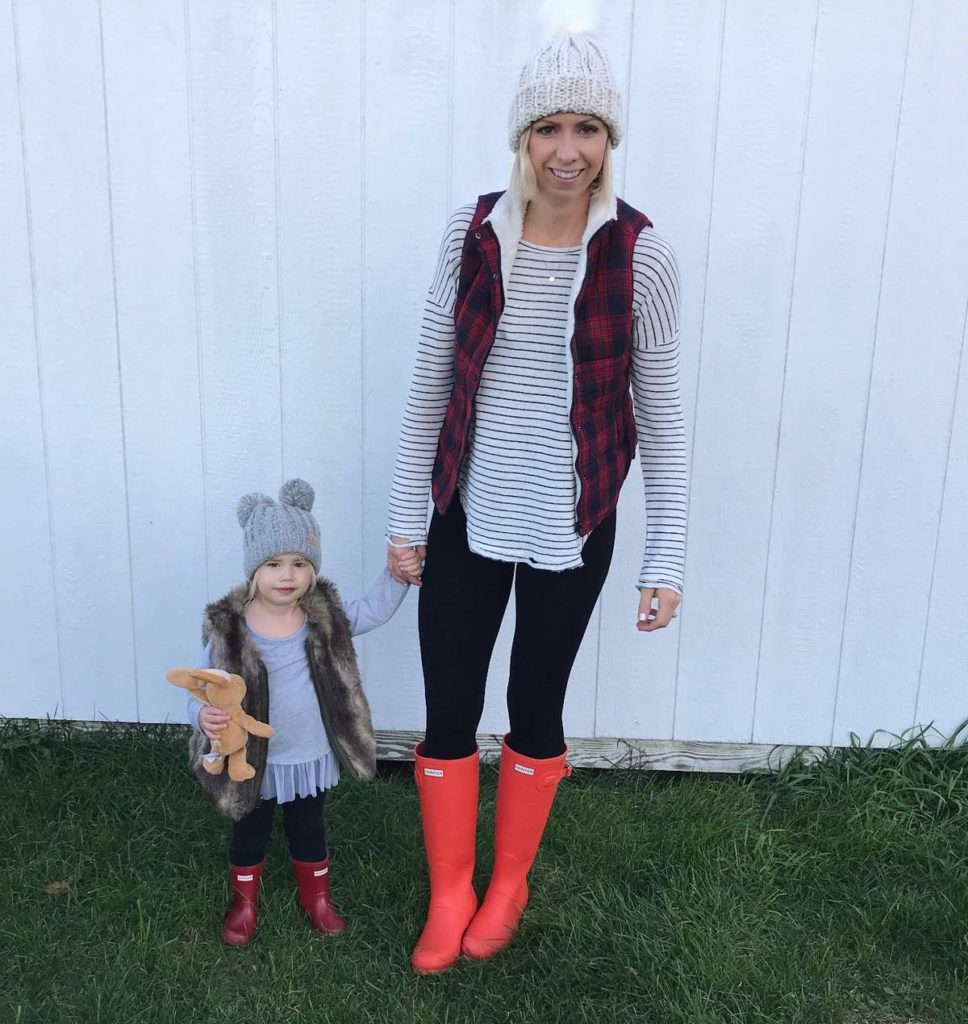 Mini Double Pompom Beanie / Beanie / Stripe Top/ Vest /Leggings/ Boots
* Here is another great way to layer with a vest….Plus I love the mix of stripes with plaid! Just add a warm, faux fur pompom beanie, boots and your look is complete. How adorable is this "mini me" look…your little can match you too!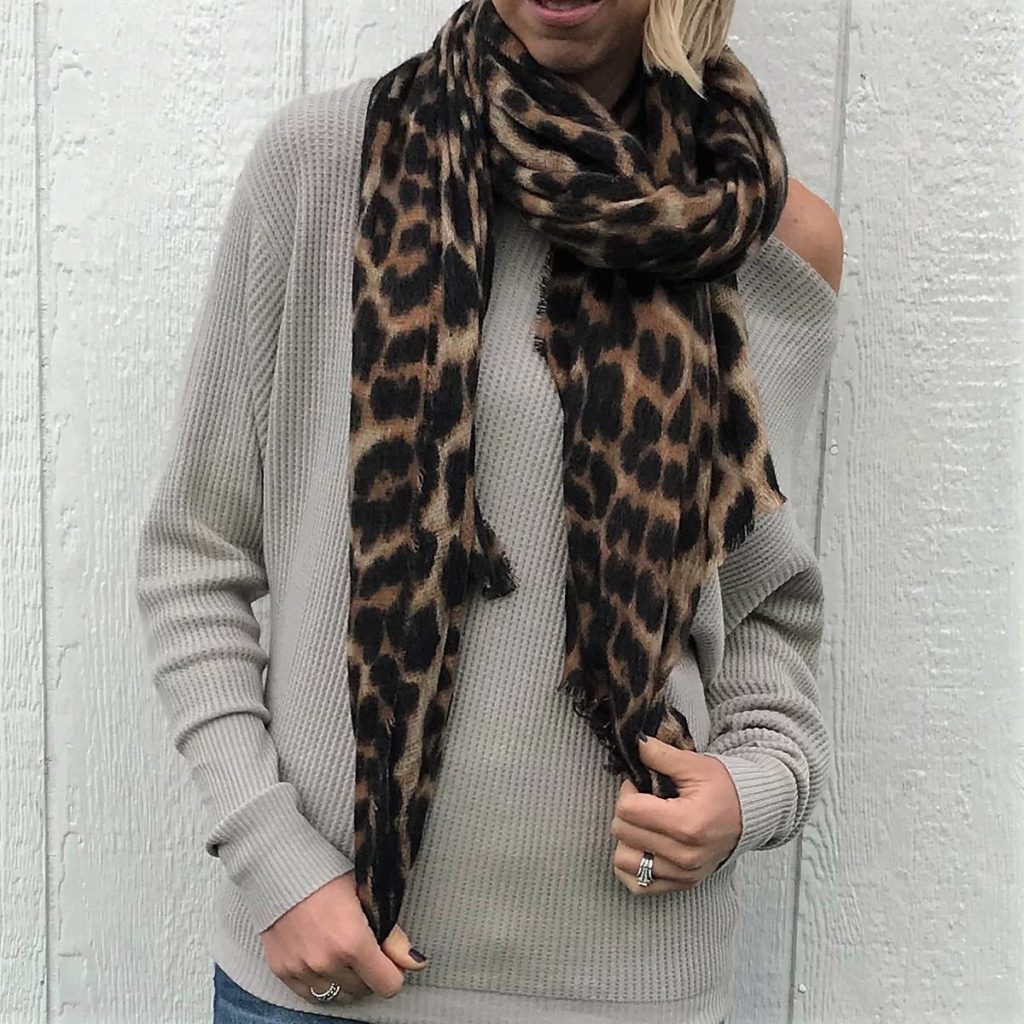 Leopard Scarf/ Waffle Knit Sweater
*Add a cozy blanket scarf to your look for added warmth around your neck and elevate a basic sweater/long sleeve top and jeans outfit. I am loving the leopard print these days! Also watch my style tutorial on how to tie a blanket scarf HERE
For more everyday styling tips and tutorials make sure to follow me on Instagram @thehautehomemaker
Also make sure you subscribed to my blog so you don't miss a style tip, shopping tip, recipe, or lifestyle hack this holiday season!! I am excited to share so many tips, guides, and resources to help you truly make the most and enjoy this very special time of year with your family and friends!
Thanks for your love and support!
-Sarah