Every year I love having our family photos taken in the fall to capture the beautiful colors of season. It is great to capture pictures to remember the phase of life we are in, and how much the kids have grown over the past year(s)! Plus, its usually the only way I can get pictures with all of us together, smiling and looking our best ( its a rare occasion we are all in one photo). Family photo sessions can seem daunting….getting all the logistics of this "event" together, i.e. what will everyone wear, where you want your photos taken, what mood/theme you want to capture? And if your paying a photographer, there can be this pressure for everything to be perfect! But perfection is over rated! And I have a few helpful tips to help you get the most, and actually enjoy your family photo session!
1. Hire the right photographer. Find someone who aligns with your budget, style, location, but most importantly find someone who knows the importance of lighting!! We went with our friend Katie Swanson Photography this year. She truly has an amazing eye! She captured the gorgeous scenery, and so effortlessly brought out smiles and giggles from my kids, and had a vision to execute our shoot. We all felt so at ease and comfortable, which is key when taking photos.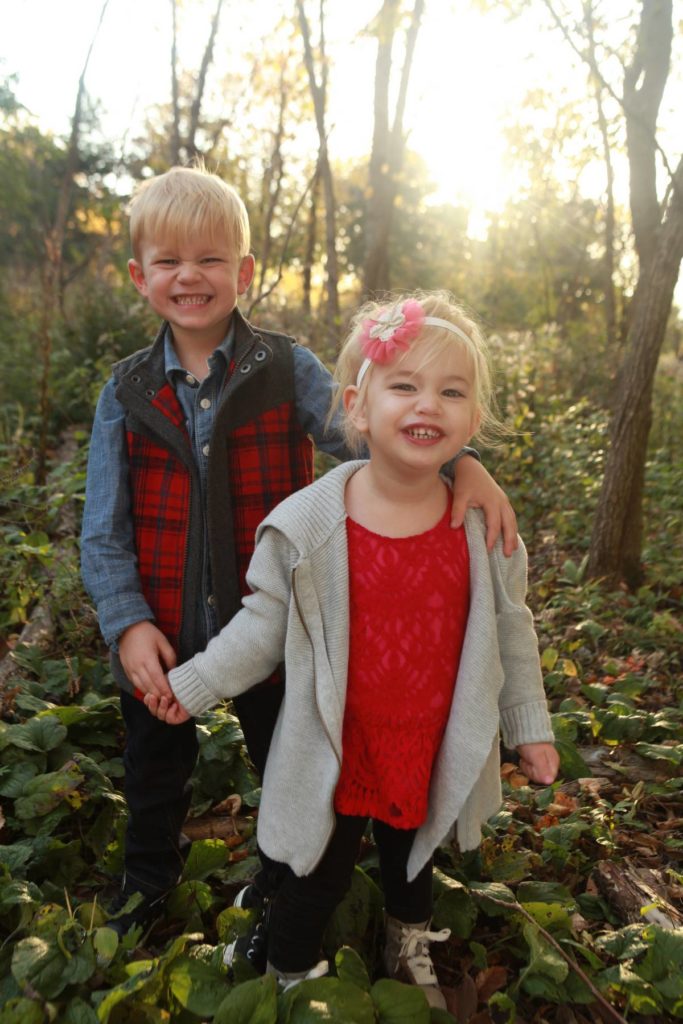 2. Keep your wardrobe simple! Neutrals are always best, white, cream, grey, with pops of plaid (for fall) or stripes. We kept our look super simple this year. I first thought about what I was going to wear, which is usually the most challenging part! I found this pretty cream colored knit sweater, and I envisioned it beautifully popping in the photos against all the yellows, reds, greens, and browns from the scenery. Then, once I knew I was going to pair my sweater with skinny jeans and these brown suede over the knee boots for a casual, yet chic look, it made finding everyone else's outfit so much easier. Start with one inspirational piece, then build your look from there.
I had also found my daughter this pretty magenta, lace, peplum top and knew immediately I wanted her to wear that in the photos. And since my cream sweater is neutral, it pairs well with anything! For my husband and son I knew I wanted to add plaid to our color palette, so we stuck with reds/ oranges. I love mixing plaids with solids to give interest and texture to a look. Everyone wore pants this year to again, keep things simple!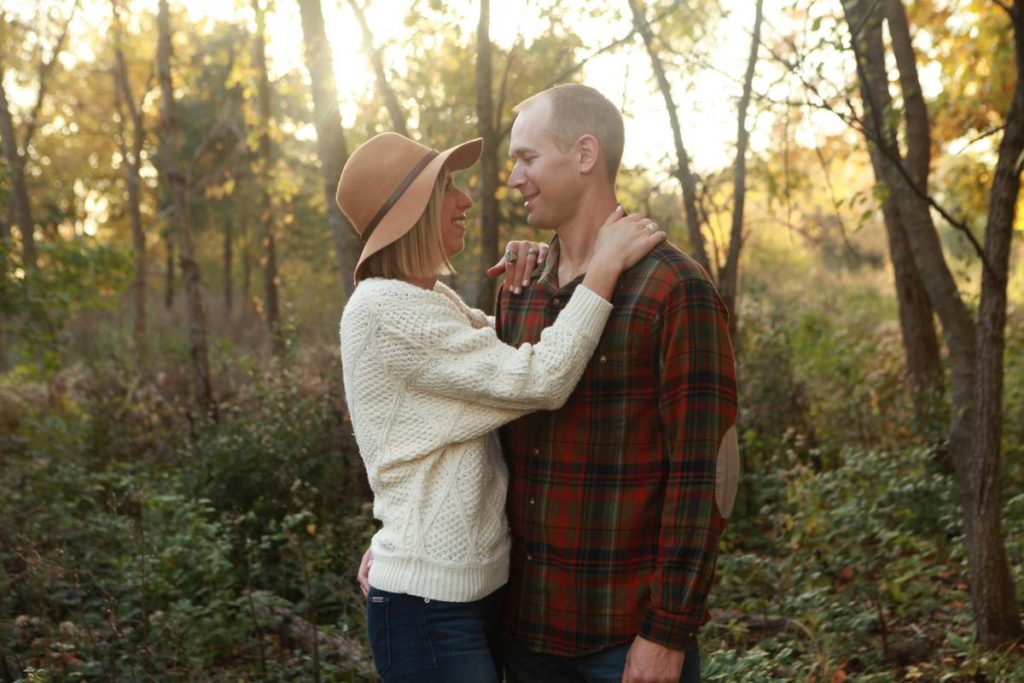 These shades of red and bright pink really pop with the greenery. Wearing the plaid (on my son) and lace (on my daughter) adds subtle interest. Do not be afraid to play with colors and textures!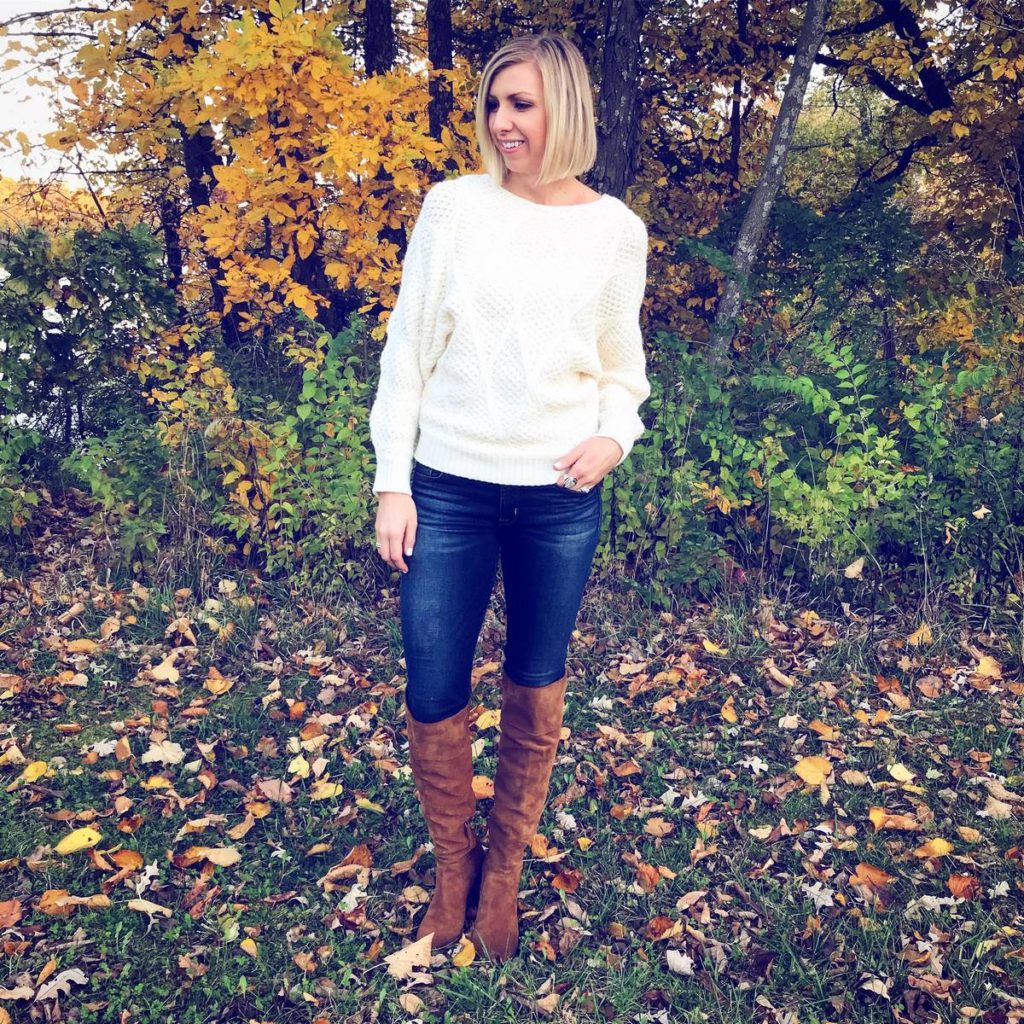 3. Keep your accessories minimal. I love wearing hats, so I brought this wide brimmed wool one to wear in a few photos. I kept the rest of my look simple, and wore my favorite everyday rings, and watch. My daughter Shay wore a simple flower headband, because I love that look on her. I definitely think less is more in this case. Wear pieces of jewelry that are dainty and not distracting.
4. Bring a smile and a few treats. Try to make it fun and stay positive during your shoot. It can be stressful getting everyone dressed, out the door, smiling and engaged in pictures. But if YOU make it fun, the rest of your family will follow suit. I always have a few treats in my bag to keep my kiddos entertained and happy. Since we were in the woods for our shoot, we told the kids "we were going on an adventure in the woods" and they were so excited! Throwing sticks, playing in the leaves…we made it a fun family event. We then promised them we would "hike' down by the lake nearby, after we were all finished!
5. Wear form-fitting styles. I chose this knit sweater because it was just the right fit. Not too big or baggy. And I liked the neckline… nothing too revealing. I choose a simple pair of skinny jeans without distressing to keep this look more polished. I love how these brown suede, over the knee boots give my look a little edge, without being too much. If you are going to wear a looser fitting tunic top, sweater or dress, add a to belt over top to help give you more shape. Wearing baggy, bigger clothing can definitely make you appear larger than you are in photos.
I hope these tips are helpful as you plan your next family photo shoot! Just remember why you are taking the photos….to create a memory and to cherish the moment, because they truly go by too quickly. If you remember that, you won't sweat the small stuff 🙂
As always I am here to help you cultivate freedom to live a more intentional, organized, life, to become the woman God created you to be!
Are you needing some help styling your family photo shoot?! Or do you have a closet full of clothes and feel like you have nothing to wear? Are you wanting to simplify your life and save money? Then I would love to curate your closet and help you create, organize, purge your wardrobe that will save you time, money, and for you to truly love getting dressed every day! Learn more about my personal styling services HERE