TIPS TO BUILD YOUR WARDROBE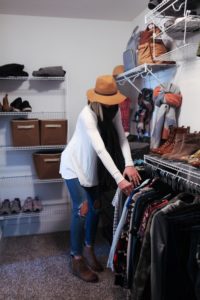 Building a wardrobe you completely love is not something you can accomplish in one day or one weekend. It is a process. I don't say this to discourage you, but to encourage you to take the steps to invest in yourself and your wardrobe. It is important to have patience, and give yourself some grace. Otherwise you become get overwhelmed, and ending making unnecessary purchases and creating even more frustration for yourself.
Make sure to read  How To Build Your Wardrobe Part 1, as I shared how to start simplifying your wardrobe, how to shop intentionally, and to help you pinpoint what types of clothes, shoes accessories and styles you want to have in your ideal wardrobe.
Create A Pinterest Inspiration Board
Pin every outfit you like and could imagine yourself wearing. Do you see a pattern? That's the main style direction you will want to focus in on. Use these outfitting ideas as inspiration as you hone in on your own unique personal style, based on your needs and lifestyle. I am such a visual person, so picking out looks/outfits on Pinterest is such a helpful way for me to pinpoint what kind of style(s), look(s) I want for my own wardrobe.
Define Your Style
After this visual experiment, it's useful to try to put into words what your prefect wardrobe would look like. Write down specifics about your lifestyle, places you go, events you attend, colors you are drawn to, types of clothes you like, and adjectives you would associate with your wardrobe (minimal, practical, quality, colorful, neutral, feminine, layers, sporty etc). Refer to How To Define Your Style blog if your needing some help/ideas. And remember to not be afraid to try lots of different styles until you find what you like. Experiment and have fun with it!
De-clutter Your Current Wardrobe
Tough choices need to be made. For starters, make a Keep, a Maybe, and a Sell/Donate/Throw out pile. Purge the items you haven't worn in over a year, that don't fit anymore, or are in a poor shape.  My rule of thumb is if I have not worn an item in over a year, someone else can use it better than I can! Try to work with everything else for now.
Organize Your Closet
Organize your closet by category (pants, skirts, tops, dresses etc) AND by color as well. This simple step instantly transforms your wardrobe into a tidy, easily accessible, clean space, where you can actually find your clothes.
Focus On Your "Uniform" And Basics First
This all depends on your to personal taste and lifestyle, but put together a list of the most frequently worn items and focus on finding the perfect 4-5, go-to outfits from of those pieces. You can call these outfits your uniforms. Your uniforms should be looks that you can wear several days of the week, to your day to day occasions in your life. And they should consist mostly of basics (tee's, tops, jeans, pants, sweaters, jackets), all of which can easily be paired with multiple pieces. If your needing help finding your Uniform read How To Define Your Personal Style
Do Add Some Unique, Statement Pieces
Not all of our clothes must be basic or functional. Sometimes the function is to add fun and flair to an otherwise simple outfit. A great pair of shoes, a lady like hand bag, a colorful neck scarf, or a pair of earrings all are great statement pieces, that can easily elevate any basic outfit.  But try to find the balance between unique statement and overly trendy. If you are starting over and revamping your wardrobe, make sure you build your basics first, then invest and add in your statement pieces.
Find Your Go-To Shops
While it's good to be open and find unique, small designers/boutiques from time to time, it's also useful to have a couple of go-to stores/websites that fit your style and aesthetics. Make a list of those stores. This may take some trial and error to find a few stores that fit your liking, style, and budget. A few of my favorite retailers are Nordstrom, Anthropolgie, Abercrombie, Old Navy, Target, Evereve, Madewell, JCrew.
Never Buy Something You Cannot Pair With At Least 5 Other Items
Otherwise you'll be stuck with a closet full of clothes that might be amazing by themselves, but if they do not work together, you'll be at the dreaded "I have nothing to wear" state all the time. Come up with at least 5 different combinations when you're contemplating buying something.
Do Not Settle
Before I buy anything I ask myself "Do I absolutely love this item?" "Does it fit my body ideally, and is it flattering?" The answer must be "yes" in order for it to enter my closet! I also make sure to read the labels of everything. I do not like to buy items made synthetic materials ( rayon, polyester, acetate, PU leather, etc.), as the quality of these man-made fabrics are not as good as natural fibers like cotton, silk, wool. So, if you find something, but do not absolutely love it or it doesn't meet your standards, even though every fashion blogger is wearing it, don't settle and buy it.
Be Patient
It takes time. Resist the urge to build your dream wardrobe completely from scratch in a matter of days/weeks. Start with your favorite items, then add a few pieces every 2-3 months, depending on what your budget is, for each season.
 Contentment With What You Have
Find contentment with what you already have in your wardrobe. Get creative and try to wear and pair what you already have in new and different ways. Don't give into temptations, and buy something every time your favorite fashion blogger posts a cute outfit on Instagram. Have confidence in your unique style and enjoy what you have.
I hope these tips are helpful as you try to cultivate a wardrobe you absolutely love.
If you need some advice or want one on one help finding your personal style, or you are inspired to revamp your wardrobe to reflect your current needs/lifestyle, I would love to help you. Head on over to my Closet Curating Facebook page to read reviews and hear how other women all over the country have invested in styling they're wardrobes and simplifying they're lives by completing a closet curating session with me! Yes, I am a wardrobe consultant, and stylist, and I would love to help you too!  For pricing details, and availability email me: [email protected] ( I offer in person sessions, as well as virtual sessions with clients all over the US).
Happy Friday my lovely friends! Stay tuned for lots of outfitting inspiration for your Spring/Summer wardrobe in the coming weeks!
Blessings, Sarah