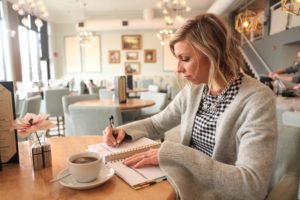 I have been sharing a lot lately about how to shop intentionally, and how to fill your closet with pieces you absolutely love, in order to build your dream wardrobe. But I feel like before your able to start this process, the first step is to define your personal style. Because knowing what styles of clothes you look great in and feel amazing in will prevent you from buying things you don't need, or will never wear. And you will know how and what to shop specifically for, based on your lifestyle, needs, and style preference.
Did you know on average most people only wear 20% of they're wardrobe. Yes you read that correctly, 20%!!! That's not much at all, and it is definitely worth figuring out what that 20% is because that is your current personal style. Note the word current because that doesn't mean it won't and can't be changed.
Step 1: Make a list of your 5-10 favorite pieces in your closet (including accessories).
These will be the foundation of your current wardrobe. Take note of the colors, patterns, styles, cuts of the pieces on your list. They will help you to better define what your personal style is.
Step 2: What Style(s) are you drawn to?
Casual Style – Think jeans, tees, jackets and cardigans in a casual, relaxed style.
Boho Style –  70's-inspired clothes, flowy tops, suede, brands like Free People or Lucky Brand.
Classic Style – Essentials that never go out of style…a more dressy look.
Edgy Style –  Clothes that make a statement, leather jackets, leather leggings, high heels, bright colors, etc.
Romantic Style – Do you like clothes with lace, soft, flowy fabrics and feminine designs?
Preppy Style – Tailored, with bright color and fun fabrics.
Glam Style – This style consists of faux fur, sequins, statement jewelry, leather, etc.
Minimalist Style – Think neutral colors, like black, gray, white or blush and have simple designs.

*Note: It is totally OK to be drawn to several different styles! Most women are a hybrid of a few styles, and that is reflected in they're wardrobe.
Step 3: Make a list of a few of your favorite outfits, and take note of the brands you shop. 
These are likely to capture your true personal style!
*Also note the items in your closet that you never wear. You know the items your were excited to buy, but just hung in your closet for months, unworn! Or items you bought that only work with one particular outfit. Take inventory of those outlier items. Think about why they do not fit in your overall wardrobe? That way you learn to not make the same mistakes in the future when shopping for your wardrobe.
Step 4: Assess your lifestyle and body type
 Are you a stay at home mom, do you work outside the home, do you attend a lot of fancy events, do you travel? Then this needs to be reflected in your wardrobe. If you stay at home with your kids it would probably not serve you very well if your closet is filled with trouser pants, dressy blouses, and pencil skirts. You need to fill your wardrobe with pieces that you will wear 5-6 days per week.
Take note of what silhouettes, shapes, necklines you look best in, and make you feel the most confidant. If you are trying to hid your middle section then you won't want to wear low rise pants, and tops that really hug your middle, that will only accentuate your problem area. You want to fill your wardrobe with flattering clothing that fit what size you are currently.
Here are some great questions to ask yourself, when trying to find your own look….
 Which items/silhouettes you're most drawn to?
 What is the color palette of your wardrobe?
What is your lifestyle? How many uniforms do you need – e.g. work, leisure time, dress up etc.?
What are your favorite outfit(s) to wear?
 What do you feel most comfortable in?
What do you have the most of in your wardrobe?
 Which one of your outfits do people compliment the most? This is also closely related to the above question, as when you feel comfortable in something, people tend to notice your confidence
*Never buy something you cannot pair with at least 5 other items. This is a great rule of thumb when buying something new, or deciding whether or not to keep a questionable piece in your closet.
Otherwise you'll be stuck with a closet full of clothes that might be amazing by themselves, but if they do not work with everything else in your closet, you'll be at the dreaded "I have nothing to wear" state all the time!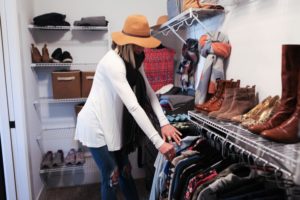 I hope you found these questions and tips helpful as you try to cultivate your own unique, personal style!
If you need some more advice or want one on one help finding your personal style, or you are inspired to revamp your wardrobe to reflect your current needs/lifestyle, I would love to help you. Head on over to my Closet Curating Facebook page to read reviews and hear how other women all over the country have invested in styling they're wardrobes and simplifying they're lives by completing a closet curating session with me! Yes, I am a wardrobe consultant, and stylist, and I would love to help you too!  For pricing details, and availability email me: [email protected] ( I offer in person sessions, as well as virtual sessions with clients all over the US).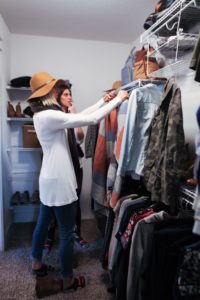 Blessings, Sarah