Happy 4th of July friends. I love this holiday because it is a time for fun, family, and of course lots of delicious food. If you are headed to a family get together or hosting your own 4th celebration, I thought I would share an easy and  delicious side dish perfect for any party. The prep time is minimal and it is an awesome dish to bring to a potluck to pass.
Homemade Baked Beans
I love to cook my baked beans in the crockpot for super easy prep and transport. Just add the following ingredients to your crackpot the morning of your party…
1/2 lb bacon, cooked
1 medium yellow onion, diced
1 can of the following beans…black, lima, northern, kidney, butter, 1 large can of Bush's baked beans
1 c brown sugar, or I like to use coconut sugar as that is what I use to bake with, and is a healthier option.
1 tablespoon yellow mustard
1/2 c apple cider vinegar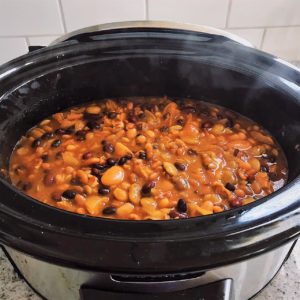 *Set your crockpot on the low setting and cook for 6-8 hours for best results. If you more pressed for time you can  cook on high for 4 hours. Cooking them overnight or the day before is also a great option if your hosting a big get together, which will save you lots of time the day of, plus your sanity!  Just reheat for an hour right before your party and they will be ready to serve.
This recipe serves 8-10 people.
I hope this recipe helps give you an easy and delicious side to bring or serve at your next summer BBQ, party or pot luck. The are always a crowd pleaser!
I hope you have a wonderful 4th of July my sweet friends!
Blessings, Sarah