*This post was updated in August 2020.
Happy Friday my friends! The fall season is upon us. This is time to bring out the pieces that were stored away for the spring and summer, to take note of what you loved from last season, what you didn't, what should stay and what should go. But are you having a hard time trying to figure out where you should start? Have no fear, let me help you! I am sharing the top 5 fall wardrobe essentials every woman should have in her wardrobe.
These five pieces will mix and match with just about everything in your existing wardrobe, and are the foundation of a versatile, wearable wardrobe.
5 Fall Wardrobe Essentials
A great of jeans. High rise straight leg jeans are the versatile and flattering on every body type. Non-distressed looks more polished, and are work wear appropriate.  But you have to decide which style fits your lifestyle and personality best! Skinny, straight leg, boyfriend, boot cut, or distressed….you decide?!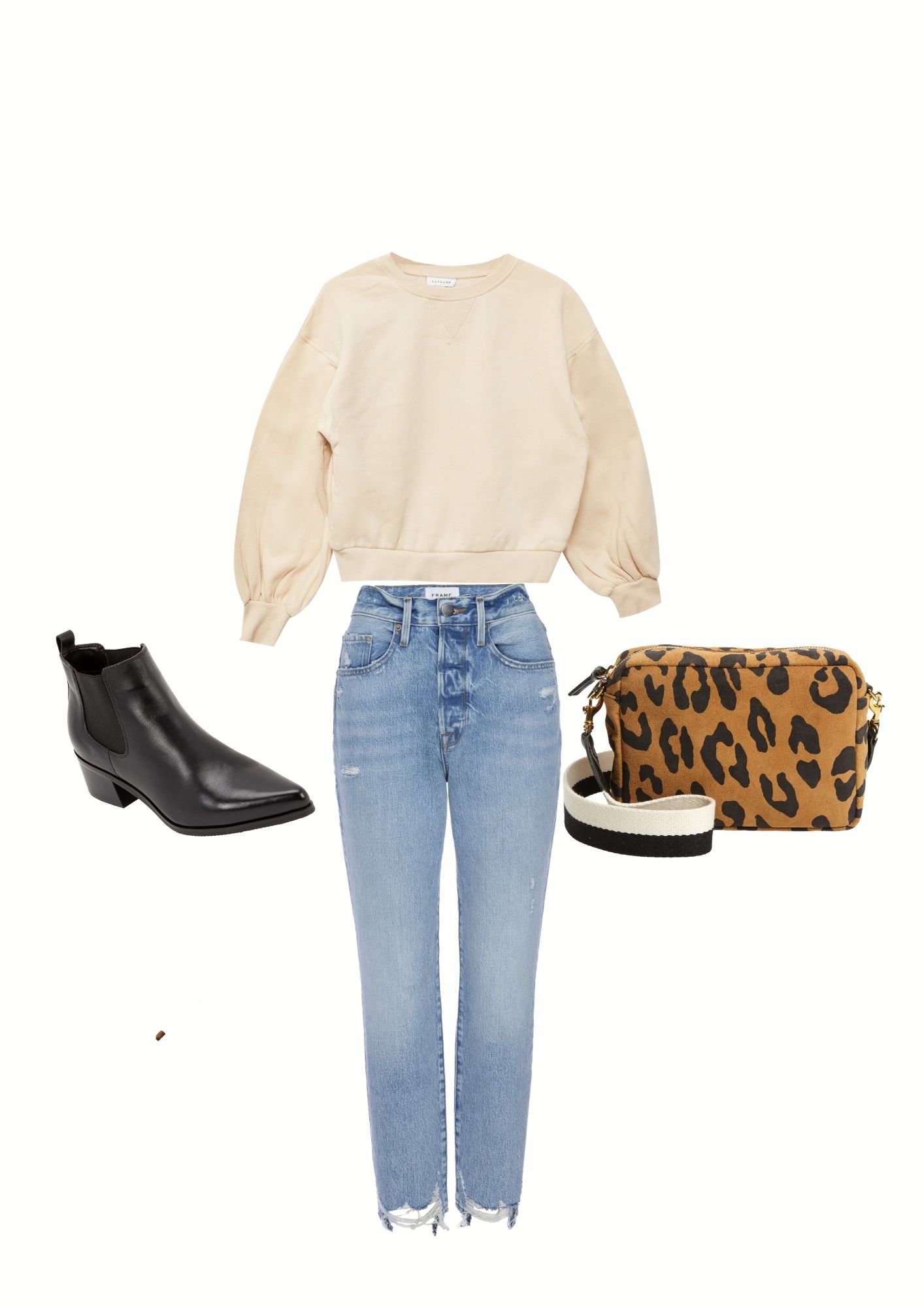 *The key to a great pair of denim is that you feel amazing in them! The proper fit it crucial to how they make you feel. You need a pair that fit your current body….not the one you wish you have after you lose those last ten pounds! But that fit you right now. I promise you will feel your best because you have taken the time to invest in a pair for the body.
*Fit Tip: For super high rise, 100% cotton jeans, I suggest going up 1 size for the most flattering, comfortable fit. You don't want your straight leg jeans to fit skin tight, they are meant to fit slightly loose. Also make sure to read the product description online so you know about the fabric makeup…1-2% elastine means there is some stretch to the material. 100% cotton means there won't be any stretch. This knowledge can equip you to find the best style of jeans for your body type, lifestyle, and comfort level.
*Here are a few of my favorite styles/brands….

A White Top. Whether it is a classic tee, long sleeve, button up, or blouse…a white top is must-have basic to build a functional wardrobe and effortless outfit. Going into the fall season make sure to have a white tee and white long sleeve tee to layer with cardigans, jackets, sweaters and scarves. Never under estimate the power of a great basic. A crisp white tee looks effortless and chic paired with your favorite jeans, boots, and your personalized accessories.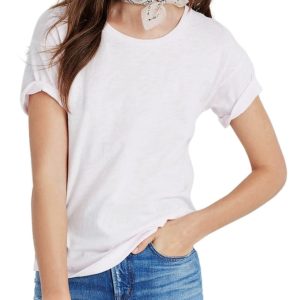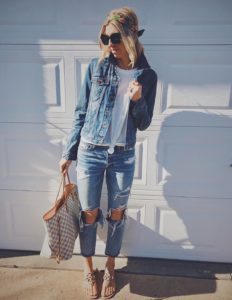 *Knot your white tee to add a feminine touch & elevate this basic! Accessories can also dress up this casual, yet effortless look of jeans & a white top.
*Material is everything when picking out a white tee. Make sure it is cotton, or a cotton blend. This will ensure it washes are wears well over time. And that your tee won't be too see through. Some thing goes for a button up white shirt or blouse, opt for natural fabrics like cotton, linen, or silk, as these will feel the best next to your skin and will last several seasons instead of just a few months!
*Here are a few of my picks for basic white tops….

A cardigan. The best layering piece going into the cooler months. Complete a simple outfit like a white tee and jeans with a great cardigan. I love that they are can be worn for many different ways, and dressed up or down.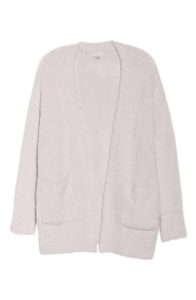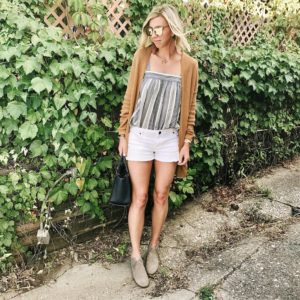 Transition into Fall with a light weight cardigan paired with shorts and booties.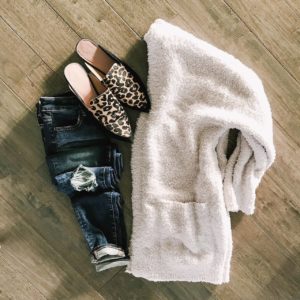 *A cozy cardigan can easily be dressed up with a great pair of mules or flats. Of lounge around at home with a tee & joggers.
*Here are a few great styles that can easily be added to your existing wardrobe….

A Pair of brown boots. The most versatile shoe for your wardrobe. They can be dressed up or down. And paired with just about everything in your closet!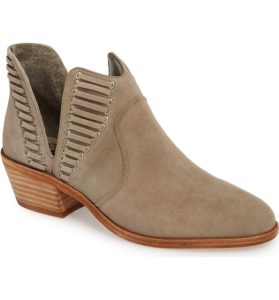 * I love pairing brown booties with a pair of skinny jeans, a white tee, and cardigan for a simple, yet totally chic everyday outfit for fall.
Here are a few of my favorite style brown boots…

A statement jacket…(i.e. military, denim, moto, blazer)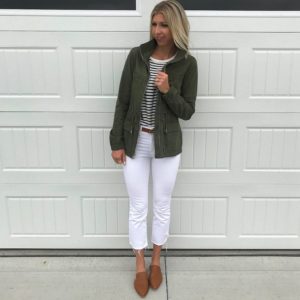 *A military jacket is a great layer for fall. The olive color goes well with everything. Pair it with a tee and jeans, leggings, or joggers.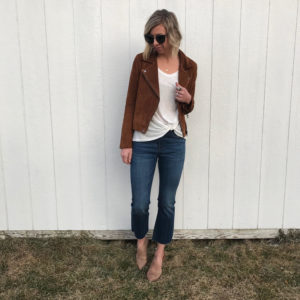 *A suede or leather moto jacket is also a great investment piece. It automatically elevates any outfit, whether your wearing jeans and t-shirt, or a dress. This style jacket will give you so many outfit possibilities for your year around wardrobe!
There are so many great jacket options that you can add to your fall wardrobe. All of these options are classic, never go out of style, and can be worn dozens of different ways!
Here are several I am loving for fall/winter…

I hope these 5 fall wardrobe essentials help to inspire you to put together your fall wardrobe. For more easy outfitting ideas, style tips, and shopping hacks I would love for you to follow me on Instagram where daily tips to style your wardrobe and simplify your life.
*And if your needing some help styling your wardrobe and simplifying your life this fall download my Fall Capsule Wardrobe ebook. I will show you  how to you build your own fall wardrobe, cultivate your own personal style, PLUS share 100+ shapable outfits to help you get dressed each day with ease & confidence. 
If you need some help defining your personal style is, read this post.
Blessings, Sarah