I'm so excited for my favorite sale of the entire year! I am sharing my top shopping tips for the Nordstrom Anniversary Sale, as well the key dates and information to help you make the most of this amazing sale. I have been shopping the Nordstrom Anniversary sale for years and want to share with you all my best tips.
Looking for important dates and details for the Nordstrom Anniversay Sale? Sharing all the dates you need to know here!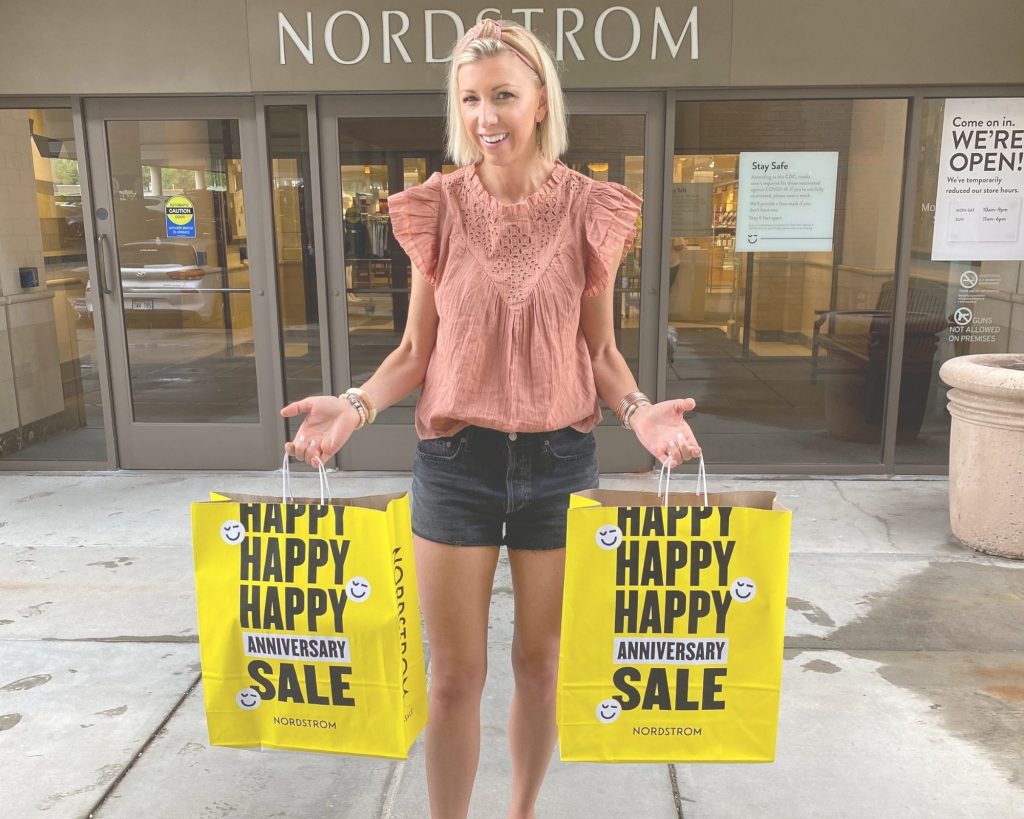 MAKE YOUR WISHLIST
It is helpful to go into this sale with a plan. In order to do that you need to know your current wardrobe needs. Take some time to access, and update your closet. This is help give you better insight into what worked well for you last year and what did not. As well as highlight where there are gaps in your wardrobe. I highly recommend doing a closet clean out two times a year, typically between winter/spring and summer/fall since these are bigger wardrobe transitions. Here are some helpful tips for closet decluttering.
I also send out a Lookbook to my newsletter subscribers on July 1st to help you form your wishlist. This lookbook typically has 100+ outfit ideas to use as inspiration for the rest of the year. You can click to shop any item featured in the lookbook. This is one of my favorite resources to create for you all year…don't miss out on it!
BUDGET FOR STAPLES
I always prioritize investing in great basics during the sale. Some items that are always included in the sale that I recommend: anything Barefoot Dreams, MOTHER, Madewell, Frame, Paige jeans, Boots/Booties, A fall jacket, Spanx leather leggings, Zella workout wear

FAVORITE ITEMS IN THE LTK APP
There is a new update in the LTK app that makes shopping so much easier, yay! Starting this week, I'll be posting my curated NSALE picks in the LTK app (follow me here) and you can simply heart your favorite items for outfits in the app. Think of it as your digital wishlist to make your shopping efficient and organized. The LTK app will also alert you if there has been a price change. I highly recommend using this feature.
BUY YOUR ESSENTIALS FIRST, THEN BROWSE
As soon as the sale goes live, I tap through my LTK wishlist, add them to cart, then check out right away. Things can sell out quickly, so having a plan, sticking to your must-have's first will ensure you get what you want, and not get lost in browsing and missing out on your #1 item.
SHOP WITH ME
I love being a helpful resource for you during the sale! I'll be scouring through the entire sale to highest only the best for you, as well as share my honest reviews of items, as well as re-stocks on my Instagram and my YouTube channel. I highly recommend turning on your post notifications for these platforms so you don't miss anything I share. Things sell out quickly. My goal is to help you build a wearable wardrobe you love and minimize returns and buyers remorse.
Here is my upcoming content calendar if you want to be on the lookout for these posts coming up (**these dates are subject to change)
July 1 Nordstrom Anniversary Sale Lookbook ( shapable fall outfit ideas from the sale ) To recieve your copy, subscribe to my Style Made Simple newsletter here.
July 5th sharing my all time favorite purchases & how they have help up through the years.
July 6th sharing the items I think will be hot sellers this year
July 7th my personal wishlist
July 8th come shop with my + what I purchased
July 9th NSALE Fall capsule
July 10th Best of Jeans + basics
July 11th Best of shoes
July 12th Best of under $100
July 13th Best buys for the whole family
I earn a small commission when you shop through my links, and my family and I so appreciate your support of my content!
SHIPPING HACK
If you want the best chance of getting your entire order, I recommend paying for the expedited shipping if you can. I have noticed that over the years that my orders will be less likely canceled because this speeds up my order being fulfilled.
SHOP ONLINE THEN IN STORE
I would avoid doing in-store pickup during the busiest times of the sale (the weekend of early access and public access), in order to avoid getting your order canceled. Inventory in stores can be hard to locate during busy times, so to ensure you get the items you want I would shop online first (you can shop at 12:01am EST based on your card status during early access). Online has the biggest selection and inventory and your order is much safer placed online, in my experience.
I hope my top shopping tips help you get ready for the Nordstrom Anniversary Sale 2022! I can't wait to be a resource for you this year.