I am loving the 70's, retro trends for Spring….
So I thought I would share some outfitting inspiration for Spring on this 1st day of March!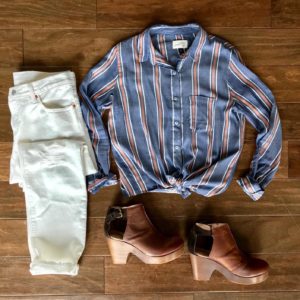 This striped button-down shirt is classic, and an ode to the 70's. A great neutral print to add to your wardrobe, as it will go with everything!
I love it paired with white denim for a simple casual look. Throw on some slip-on sneakers, or a pair of brown booties to complete this effortless look. Or pair it with some cut-off denim shorts, Birkenstock sandals when the weather starts to warm up. Or dress it up with a pair of dark denim, nude heels, and a statement necklace for a dressier occasion.
*This button down style top is so versatile, and can be be worn several different ways…
leave it un-buttoned & open, layered with a tee or cami.
Button it up and leave it un-tucked, or do a little front tuck (my fav wear it wear it!)
OR to a little front tie like I did with this outfit to give you more shape & accentuate the smallest part of your waist!
So what do you think of this look? I would love to hear your thoughts… Happy Thursday friends!