Summer is right around the corner, so that means it is time to find the perfect pair of denim shorts to add to your wardrobe. I realize this can be a difficult task, as finding the perfect pair of shorts that fit, are flattering. and you love takes some trial and error. However I am here to help you save time, as I have found several different denim shorts options ranging from $17-$80, and are all "mom appropriate", so you can feel polished and put together, yet rock this casual, cool style.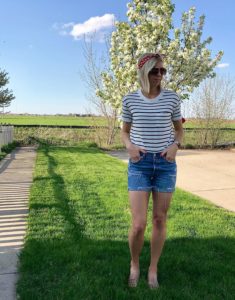 Tee / Shorts / Headband / Sandals / Sunglasses
Shop My Top Picks For Summer
*If your going to buy high waist shorts (which I absolutely LOVE and highly recommend, I suggest going up a size for a more flattering fit. These style shorts look the most flattering when they are slightly looser, and not too tight around your waist and thighs.
Happy Shopping my lovely friends! I would love to know what style(s) you end up purchasing/loving in your wardrobe? Let me know here in the comments or send me a DM on
Instagram
, where I love interacting with all of you!
Blessings, Sarah