What are my favorite denim shorts, is a question I get asked a lot. Since summer has officially begun, that means shorts season is in full swing. So I wanted to share some of my favorite pairs of denim shorts (distressed, non- distressed, short, mid-length, bermuda length, light & dark wash), that are flattering & that I have been wearing on repeat lately. Plus some ways to style your denim shorts. They are definitely a staple bottom in my summer wardrobe and something I reach for almost daily in my work from home, mom life.
Editors Note: I'm 5'10 & my normal jean size is 27.
My Favorite Denim Shorts
Shorty Denim Shorts: Agolde Parker Shorts
The shorty style denim shorts have an in-seam length around 2.5″-3″. The the most flattering pairs are a high rise, and flare out in the hips (like the letter A), which are slimming in the thighs. I like to go up one size in this style denim short for the most flattering, comfortable fit.
I have had this pair of Agolde for over 2 years now and have worn them repeatedly because they are so comfy & flattering. I love the raw hem & slight distressing. They are an investment pair, but since they get worn all the time I would say I definitely got my monies worth!
If you unsure if you can pull of shorter style shorts, make sure you size up at least 1 size (looser in the thighs =slimming effect), look for high-rise, and flared in the thighs. Follow these tips to rock this style shorts with confidence.
Mid-length Denim Shorts: Abercrombie Curvy Love Mom Shorts
If you are looking for a little more leg coverage, then a mid-length style short is a great option. The in-seam will be between 3″- 4.5″, (you can always find this info in the product description online, if you are unsure from a photo).
I love this pair from Abercrombie, called the curvy love mom shorts. They have an extra 2″ in the hips/thighs which make them so comfortable and flattering. I would recommend sizing up 1 size in these for a looser, relaxed fit (in the first 2 photos). If you want them to be more fitted then I would go with your normal size (see second 2 photos, I'm wearing my normal size 27)
Bermuda denim shorts
This style short has a 5″ + in-seam. This is a great option if you like shorts but want more leg coverage. An easy way to wear these shorts is to pair them with a more feminine top (think blouse or a puff sleeve top, pictured below). Another tip is to do a front tuck with your top to show off the smallest part of your waist & give you some shape.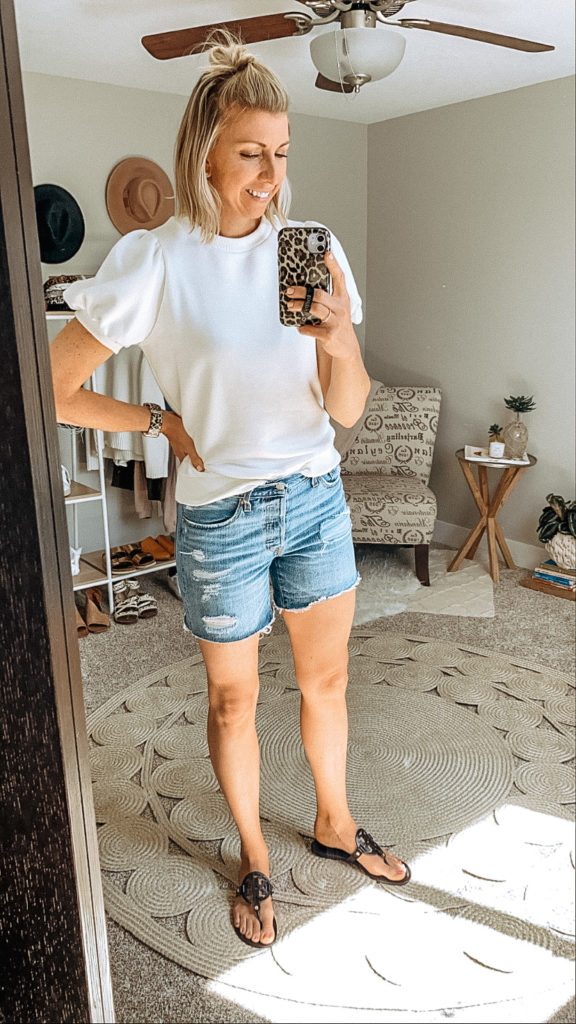 I searched high & low to come up with this list of the BEST denim shorts (budget & quality) to add to your closet. I broke them down to rise & length, so you can easily find a pair that fits your preference.
Shorty denim shorts

Mid-length denim shorts

Bermuda denim shorts

For more easy outfit ideas for summer make sure you are following me in Instagram.
3 Ways to style a basic black dress for summer
XO, Sarah