When I found out all of my clean beauty favorites are on sale (the entire site is currently 15% off, this only happens a few times a year), I had to share again my safer skin and makeup products from Beauty Counter that I use everyday and LOVE. Many of these would also make great gifts for the holidays… think hostess gift, for her (share this with your husband or family), teacher, or friends gifts.
PS – if you sign up to be a Beautycounter member ($29 customer loyalty program) right now, you will get the resurfacing peel ($63) for FREE! As a member, you will receive free shipping on all your orders over $100, PLUS 10% back in product credit on applicable orders!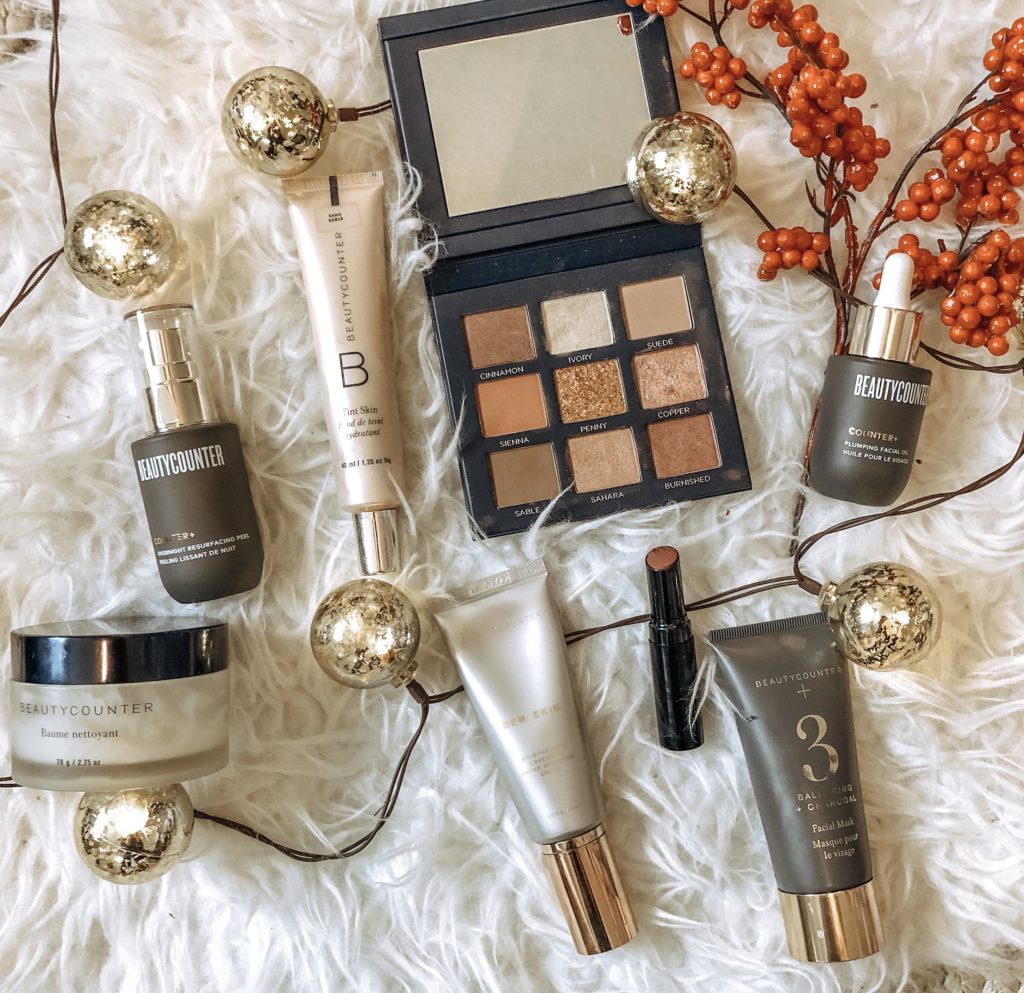 To shop my favorite clean beauty picks just click on the item description below
My clean living journey started over 10 years ago as I started doing my own research and finding out that what we put on our skin goes directly into our bloodstream. Yikes! And many of the ingredients that were in my favorite beauty products are known for causing cancer, auto-immune disease, disrupting hormones, and infertility. These facts really had me re-thinking all of the products I was using everyday, and WHAT exactly was in those products? Have you ever read the label on the back of one of your beauty or hair care products and wondered "what is this?". Here is a list of the harmful ingredients you will find in products on the market today.
My husband and I were also struggling with infertility for over 3 years, so I was very consciences about what products I was using, since many of them can cause infertility! So when I discovered Beauty Counter from a friend I was excited to try a new clean makeup line that not only had safer ingredients, but is passionate about changing the beauty industry and lobbying for stricter guidelines and regulations to shift the personal-care industry away from using harmful and questionable ingredients. So it was a no brainer for me to give the makeup a try.
And I absolutely loved it, and immediately saw a difference in how my skin looked. If you are looking for ways to switch your makeup and skincare products to safer alternatives, you can start TODAY. And if you want to make a change but, don't know where to start, here are some of my favorite products that I use everyday…
My Clean Beauty Favorites: Skincare
My Clean Beauty Favorites: Makeup
Make sure you are following along on my Instagram where I share more of my clean living hacks, recipes and tutorials.
Check out all of my helpful holiday gift guides HERE
XO, Sarah