Happy Friday Friends! I thought I would do a Friday Favorites: Instagram round up today, and share all that I am wearing and loving right now for Spring.
Here we go….
Look #1
*The most amazing henley (I have it in 2 colors!)  A great casual, long sleeve option for spring.
Look #2
*A simple grey dress like this one is so easy to throw on with a denim jacket, and mules for a more put together, yet casual outfit!
Look #3
   Jeans / Tee / Jacket / Shoes / Sunnies
*The perfect everyday "momiform" for spring! All of these basics paired together are so chic and classic!
Look #4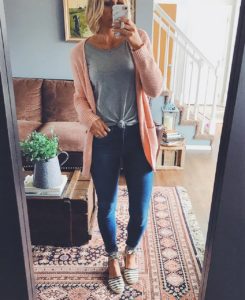 Tee / Cardigan / Jeans / Shoes 
* This blush cardigan is the perfect layer for spring! The color adds a touch of femininity to a basic outfit like this one!
Look #5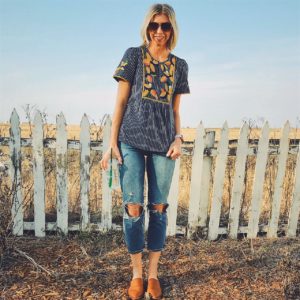 *This embroidered top is an instant outfit maker! I love the bright, beautiful print, and the flattering fit. Pair it now  with distressed jeans, then into the summer paired with a denim skirt or shorts.
Look #6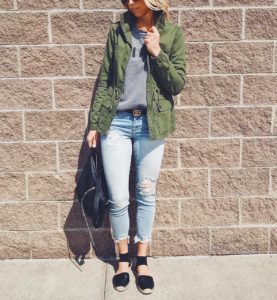 Jacket / Sweatshirt / Jeans / Shoes / Bag / Sunnies
*Another one of my go-to uniforms I love wearing for a day of errands, or weekend wear. The jacket , belt, and shoes add polish to this casual look.
Look #7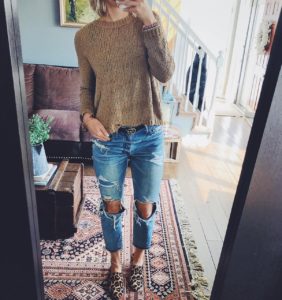 *A great way to elevate super distressed jeans is by pairing them with dressier loafers/mules, adding a belt, and doing a little front tuck.
I hope these looks help to inspire you as you go into your closet and put together outfits for Spring! Have a wonderful Easter weekend celebrating with friends and family!
Blessings, Sarah