A great summer wardrobe isn't complete without an amazing fitting pair of denim shorts. Below are the do's and don'ts of how to wear denim shorts. Including fit tips and outfit inspiration for how to make your denim shorts flatter your figure.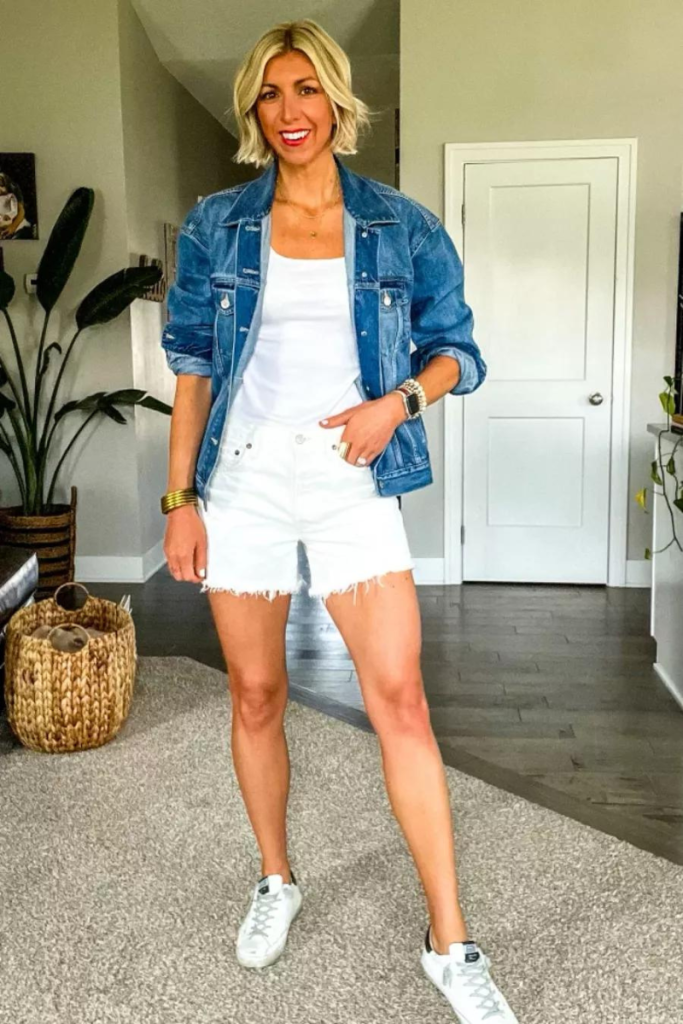 Shop The Look

Finding Balance Without Showing Too Much Skin
When wearing shorts, it's best to consider the do's and don'ts of styling denim. One way I like to style them in the heat of summer is pairing them with a bodysuit or ribbed tank for a seamless look. Additionally, I like to add a jacket or an opened button up shirt to finish off the look and give some coverage on top since it's showing a lot of skin both on the top & bottom. This is a great way to balance out your look & not look try hard.
Another way to not look try hard in your denim shorts is to go up a size or two for a looser, more relaxed fit. When your shorts are pasted to the thighs it draws unnecessary attention to that area of the leg (which is usually the widest part of the leg). Having a space between the thighs + the shorts ( 1-3″) creates a nice long, lean line on the legs. So I always recommend going up at least one size in shorts to accomplish this more flattering fit.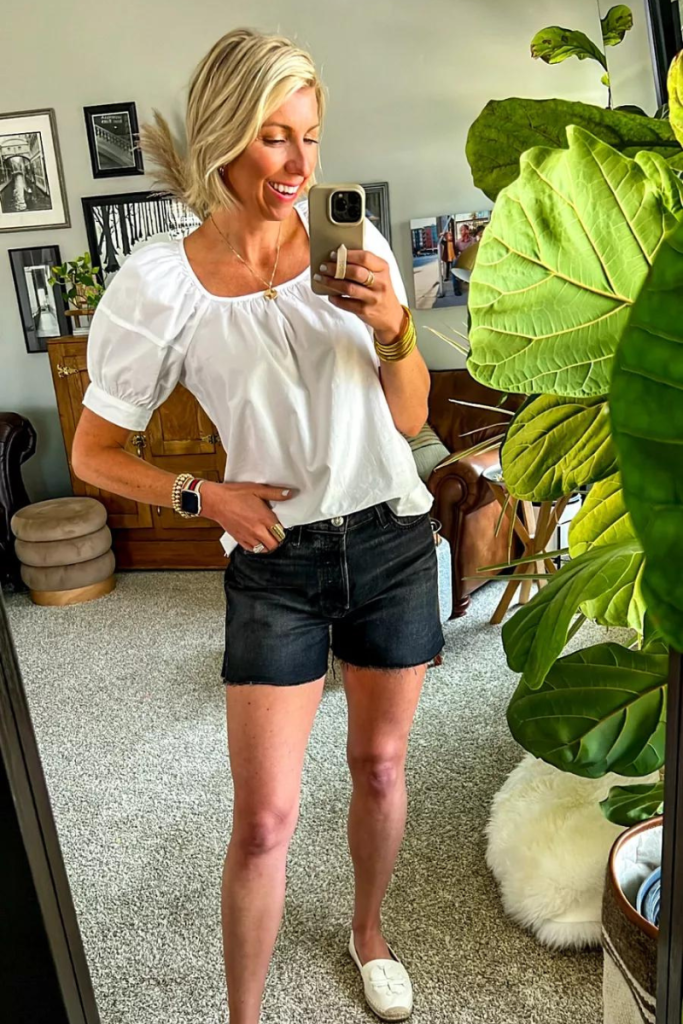 Add Sophistication & Polish
Another "do" of wearing denim shorts is to style them with a polished blouse. Wearing a blouse with a mid length sleeve or full sleeve adds more coverage on top for when you're wearing something shorter on the bottom. This offers a put together, easy look, an elevated the casual feel of denim shorts. Also wearing a darker color shorts (like black) instantly looks elevated. Denim shorts with a sophisticated blouse you can be dress them up for a night out or down for a day of errands, just by changing up your shoes.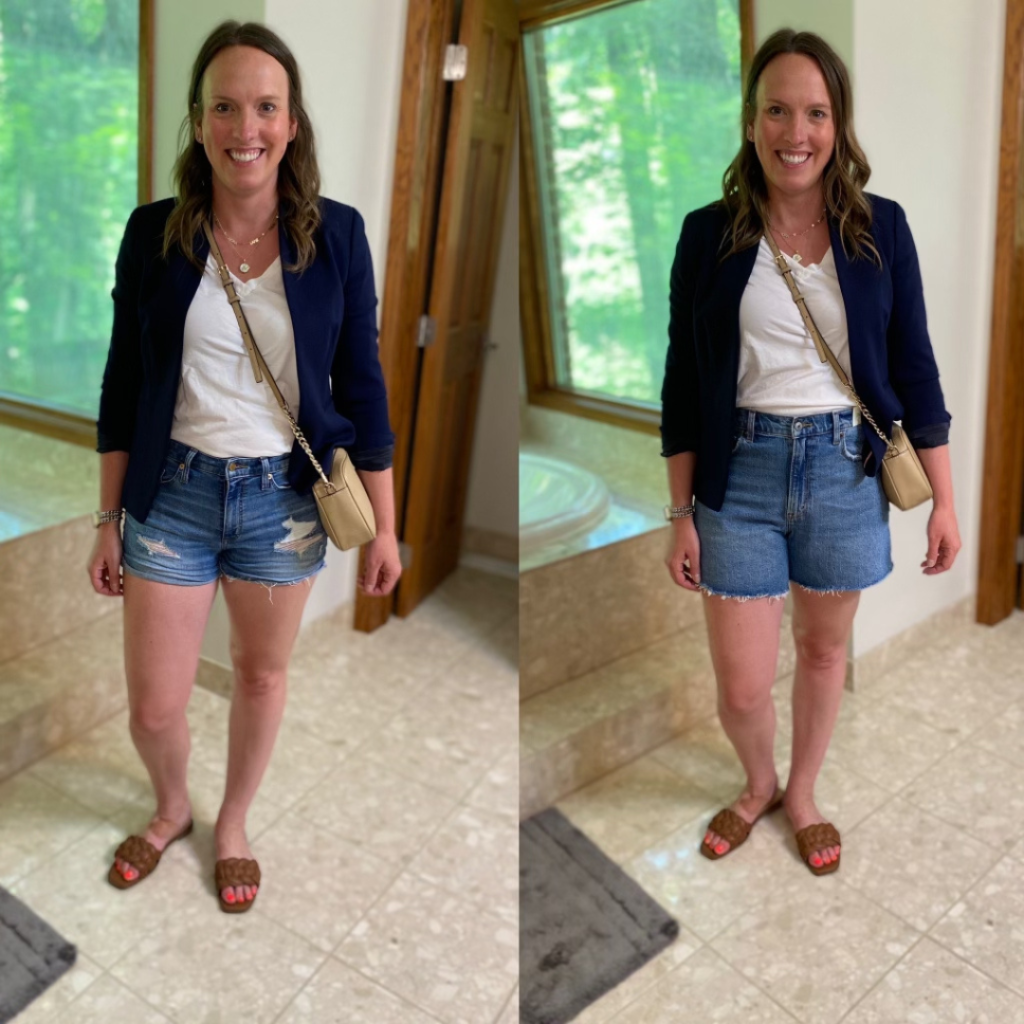 Find your Flattering Fit
Lastly, when considering the do's and don'ts of denim shorts, find a fit of denim that is most flattering to your figure. My style coaching client was introduced to the idea of finding a more flattering fit for her figure and smarter style to elevate her personal style. The photo on the left is an outdated pair of denim shorts that hit at the fullest part of her thigh accentuating the area, and the low rise draws attention to the tummy area she was wanting to conceal. The heavy rips also draw attention to that area & look outdated. Where the shorts in the photo on the right are more modern, with a waist concealing higher rise. The longer length with a looser fit around the thighs help to lengthen the legs & flatter her figure best. Finally, we added a blazer to for more polish to finish off the look.
I hope these tips are helpful the next time you are shopping for denim shorts to add to your wardrobe!
For more summer outfit ideas with denim shorts make sure to check out this helpful outfit resource!
Make sure you are following me over on my LikeToKnowIt shop page where I have a many curated lists of wardrobe essentials, outfit ideas + style inspo where you can easily shop right from your phone!