If you are looking to revamp your spring wardrobe, or completely start from scratch…and you are not sure what items to add/shop for, I am sharing my top ten spring must have items! All of these pieces are interchangeable, neutral, and easy to wear and pair with your existing wardrobe, or a great place to start and build upon.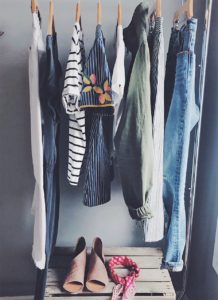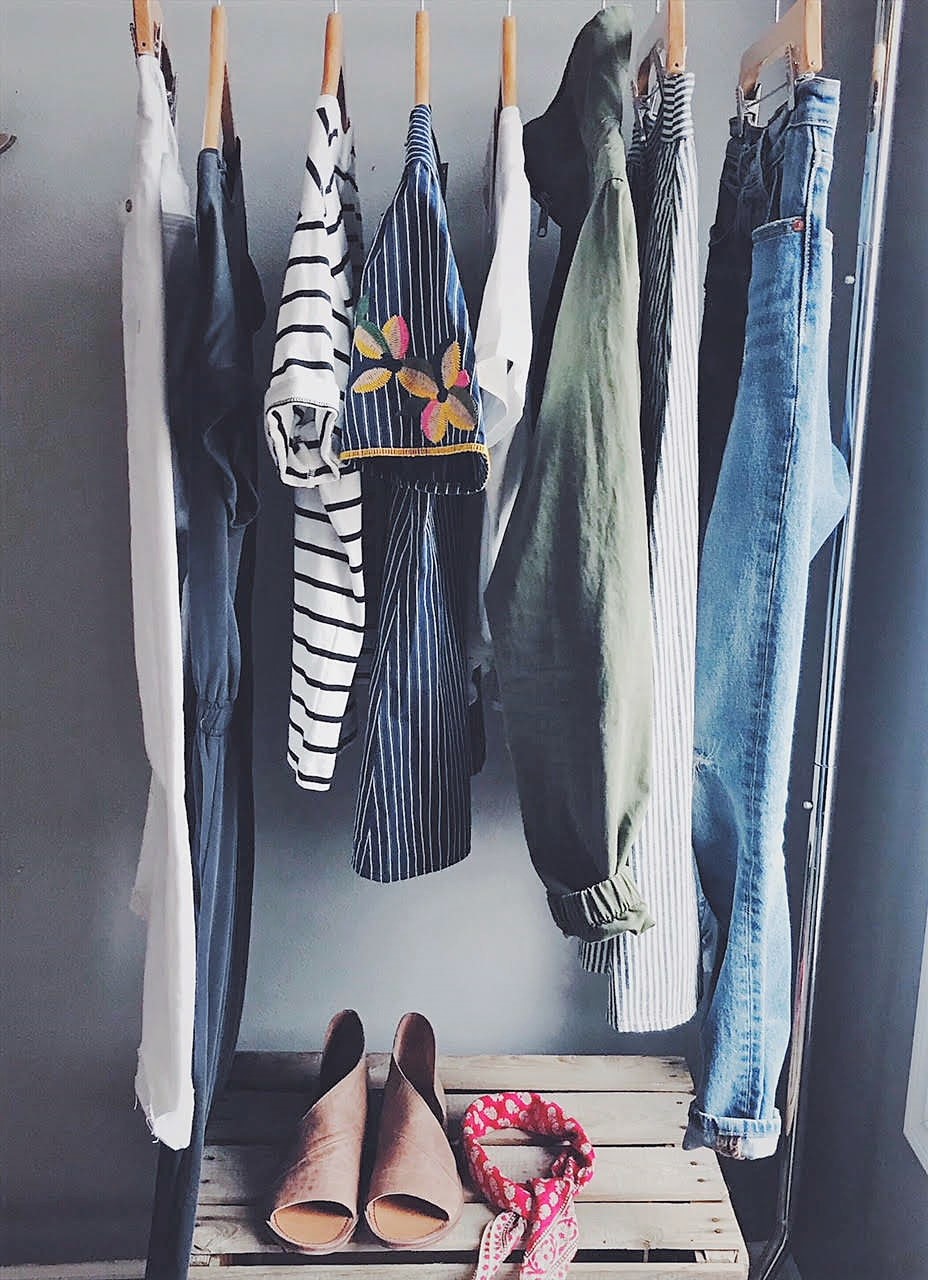 10 Pieces That Will Complete Your Spring Wardrobe
---
Shop These Must Have Spring Pieces
All ten of these pieces are versatile, and can be worn interchangeably. I specifically chose these items for my wardrobe to be able to mix and match, and to get dressed with ease each day. Here are just a few of the ways to wear these 10 items….
Look #1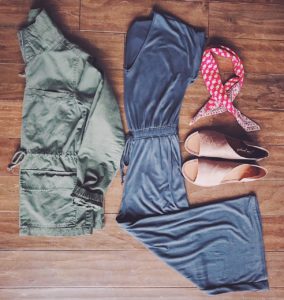 Jacket / Jumpsuit / Shoes / Neck Scarf
 * A jumpsuit is am all in one outfit. Just throw it on and your outfit is done! Add a jacket for a warm layer and a little more structure. A neck scarf is a great pop of color to add to this simple, yet super chic outfit. Add some brown leather sandals and your out the door.
Look #2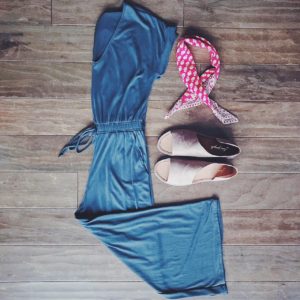 Jumpsuit / Shoes / Neck Scarf
 *I love how a jumpsuit can be worn either dressy or super casual. For a more casual look, switch the sandals for a pair of white sneakers. Add a hat and shoulder bag and your ready for the ball park, farmers market, or brunch. The If your going to invest in this statement maker item, consider buying a solid color! Black is the most flattering and will be very versatile in your current wardrobe.
Look #3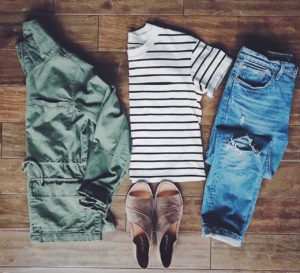 *A great everyday "uniform" that is casual, yet put together. A basic stripe tee adds interest to this very simple outfit.
Look #4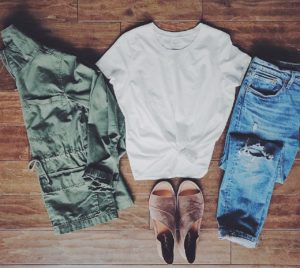 *A go-to white tee is a must in every women's wardrobe. Dress it up or down. I love the tie front detail of this style tee that adds a hint of femininity and fun to distressed jeans.
Look #5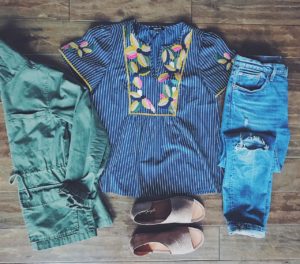 *A pop of print will elevate any outfit. I love the classic stripes mixed with the bright, floral, embroidery on this top. It is a statement maker by it self, so just add a pair of jeans, brown sandals, and jacket if needed, and your outfit will automatically go from basic, to amazing with this top!
Look #6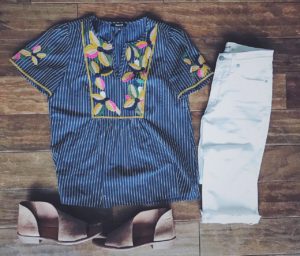 *Or pair a printed top with white denim for a more sophisticated look, for the office, wedding/baby shower, or church.
Look #7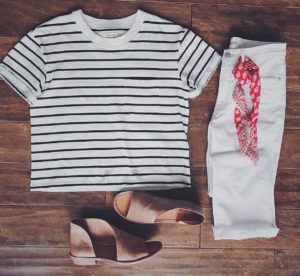 *Or pair white denim with a basic stripe top, and add a colorful scarf in your hair or around your neck to channel your inner Parisian. This outfit is classic and can be worn for just about any occasion!
Look #8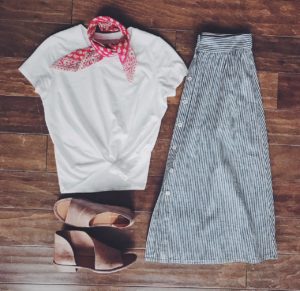 *A midi shirt is the perfect alternative to shorts, or pants for spring/summer. It can be worn dressed up or down, and adds a hint of feminine charm to your wardrobe. I love the high waist fit of this skirt, and how it accentuates te smallest part of the waist. Add a simple white tee for an effortless look.
Look #9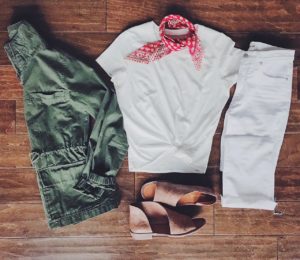 Jacket / Tee / Jeans / Shoes / Scarf
*I love the monochromatic look of white on white! Add a green military jacket for some structure and interest.
I wanted to show you through this mini spring capsule, that if you add the right pieces, you can get so many different looks from only ten items! Whether your a stay-at-home mom, work-at-home mom, work in an office, you can implement this concept into your own wardrobe with pieces that best suit your lifestyle!
Have you heard of a 10 x 10 challenge? It is a style challenge where you pick out ten items (shoes included) and only wear those ten items for ten days! It is a great way to "dip your toes" into the capsule wardrobe pool, if your not sure that is the kind of wardrobe you want to build.
This concept is about picking some great basic pieces (like the ones I have shared), and wearing them in various ways, in order to spend less time getting ready each day, to learn to simplify your day/life, and find contentment with what you have. So, are you up for the 10 x 10 challenge?! If so I would for you to post pics of your outfits on Instagram using the #closetcuratingchallenge
To see a closer look at this 10 piece spring wardrobe head over to my Facebook style group Closet Curating, where I shared and styled all ten of these exact pieces in a LIVE style tutorial! And make sure to join me everyday Tuesday @ 2:00pm CST as I share easy style tips, tricks, and outfitting ideas to implement in your closet!
Blessings, Sarah