Having the right essential pieces in your wardrobe will make getting dressed everyday easier. Here are the 10 fall clothing essentials to have to create a wearable, versatile wardrobe that will take you through the fall/winter season, without having a buy a ton of new stuff.
10 Fall Clothing Essentials every woman should have in her closet
Animal Print (Cardigan)
I love how leopard or snake print elevates any outfit for fall. Whether it's a cardigan, boot/shoe, or accessory, this neutral print goes with everything and screams "it's fall".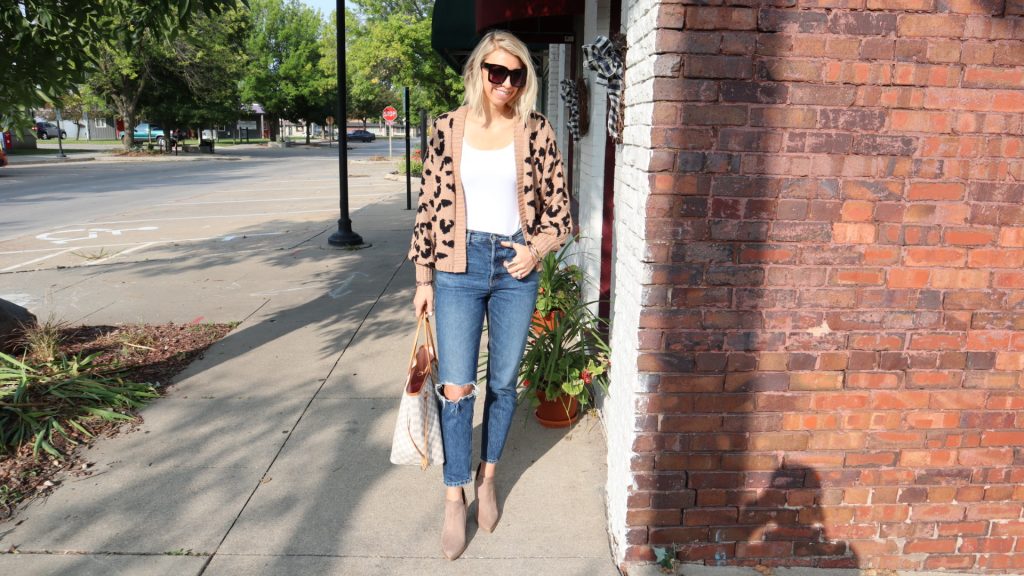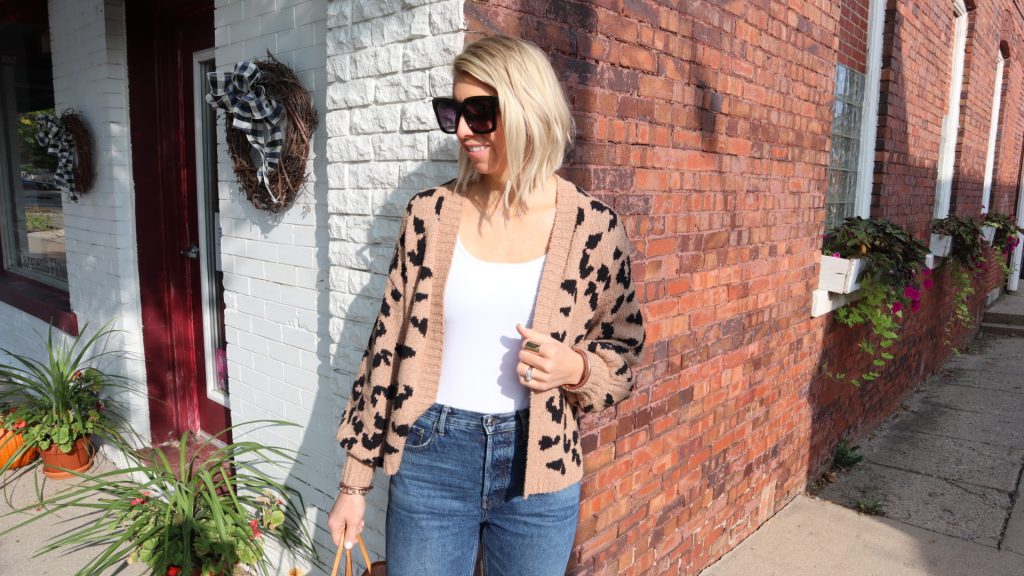 This cardigan pairs well with a basic tee, jeans and booties for an everyday outfit that works for so many occasions.

2. Booties
A great pair of neutral brown or stone color boots go with everything and will take your outfit up a notch.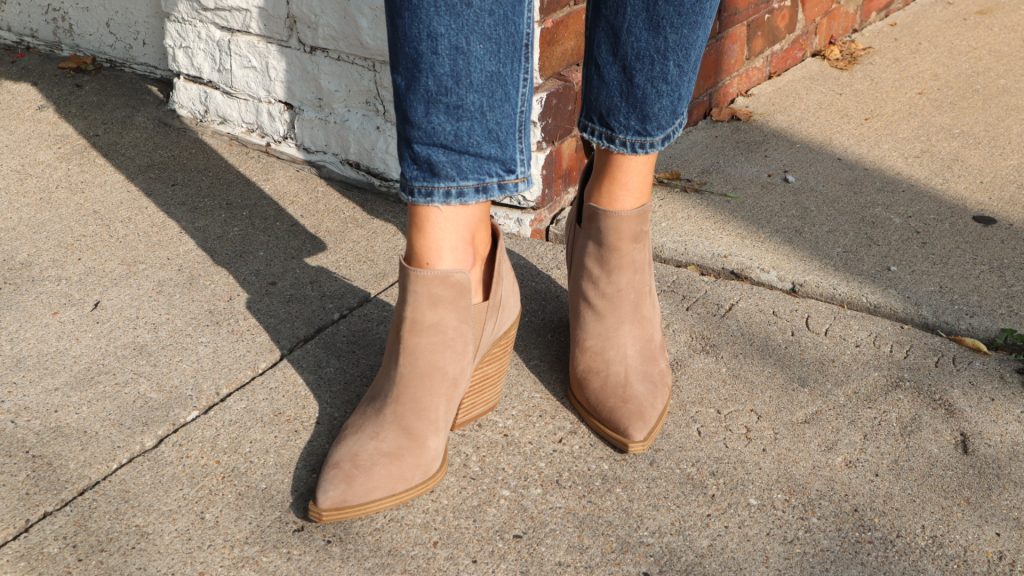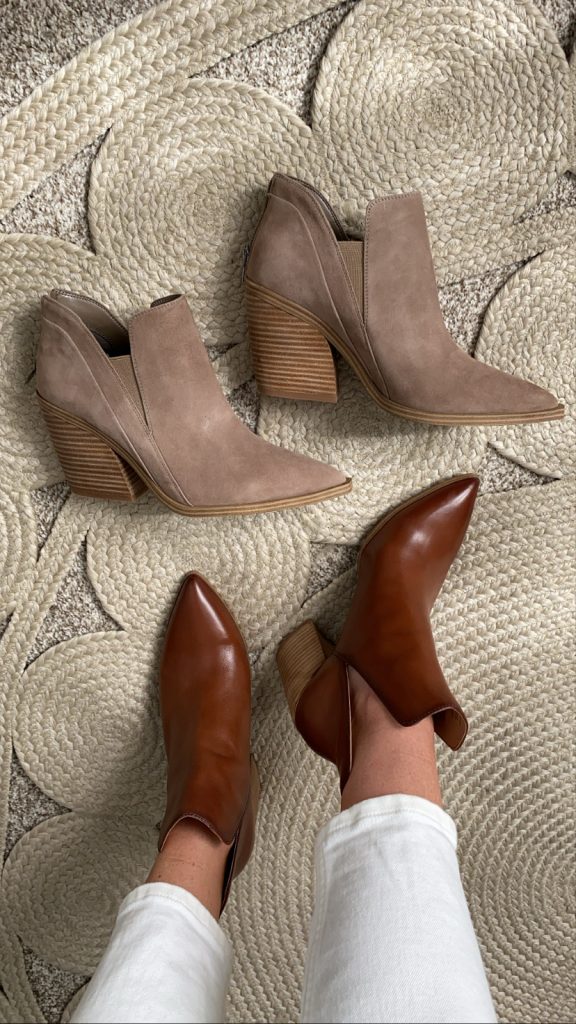 3. Jeans
High rise, straight leg jeans will make your wardrobe feel current and on trend. I like having a darker and lighter wash in my wardrobe since I wards jeans most days in the fall/winter seasons. I also recommend having a pair of black skinny jeans and white jeans in order to be able to build easy outfits for everyday.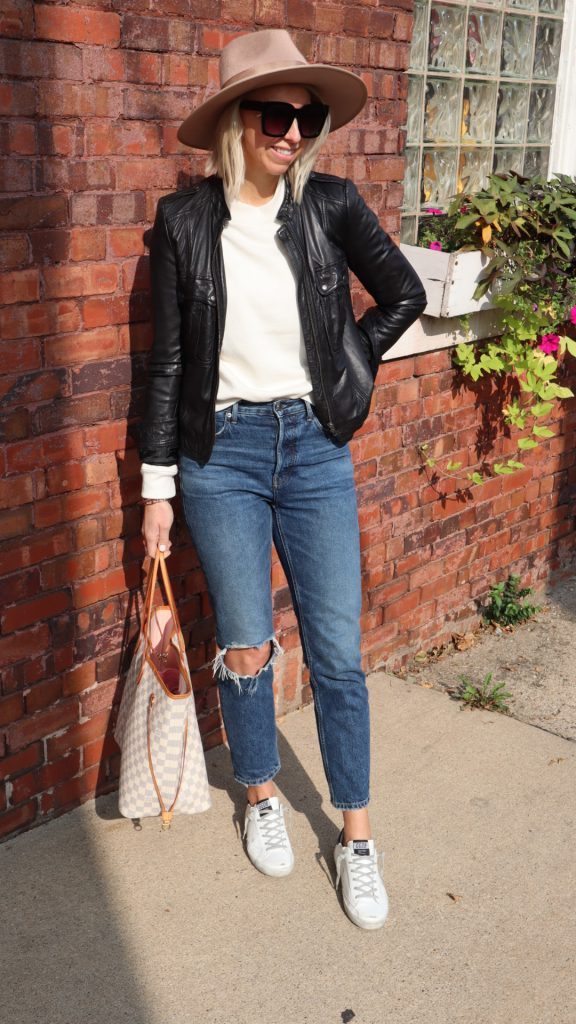 4. Joggers
These can be worm as lounge wear, athleisure wear, work wear or for everyday. Black joggers have become my go-to pant because they are so easy and comfortable to wear for everything! Black is the most flattering and versatile if you don't have a pair in your closet, start there.

5. Cardigan
A easy, cozy layer for the cooler temperatures in fall. I am loving the longer (midi & duster length) cardigans because they look so chic and effortless. Throw it on over a graphic tee or basic tee, with jeans, joggers or leggings. It will instantly make whatever you're wearing look so polished and put together with minimal effort.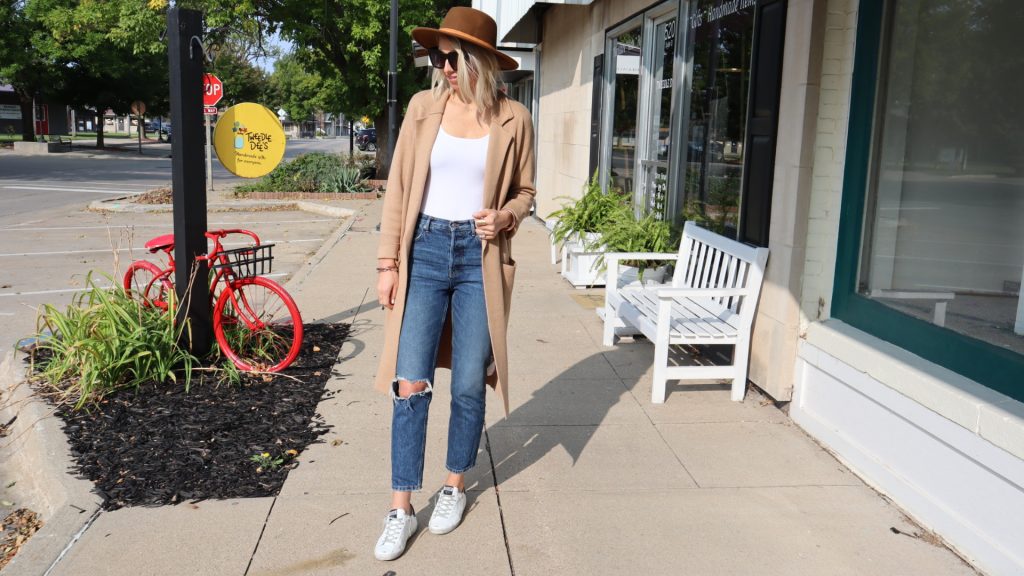 6. Blazer
I love to add a blazer to "dress up" my outfits. Pair it with a bodysuit or basic tee, jeans and booties or sneakers you look like a million bucks! I don't think of blazers as work wear anymore, I think of it as an alternative to a cardigan when I'm building my outfit.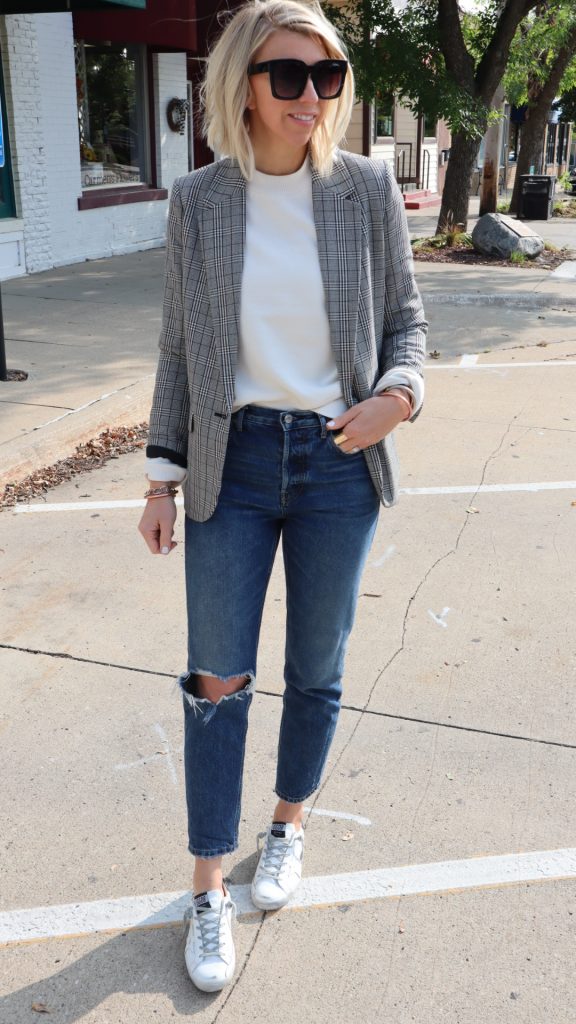 7. Sneakers
Comfortable and chic, sneakers are a go-to shoes for just about any outfit. Pair them with jeans or joggers for everyday. Or wear them with a dress or midi skirt for a dressier look.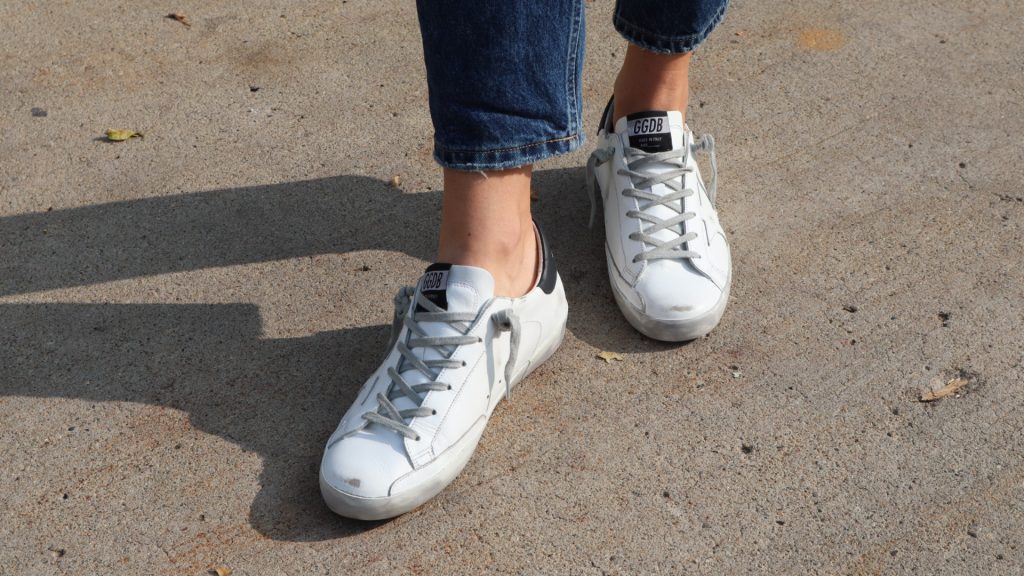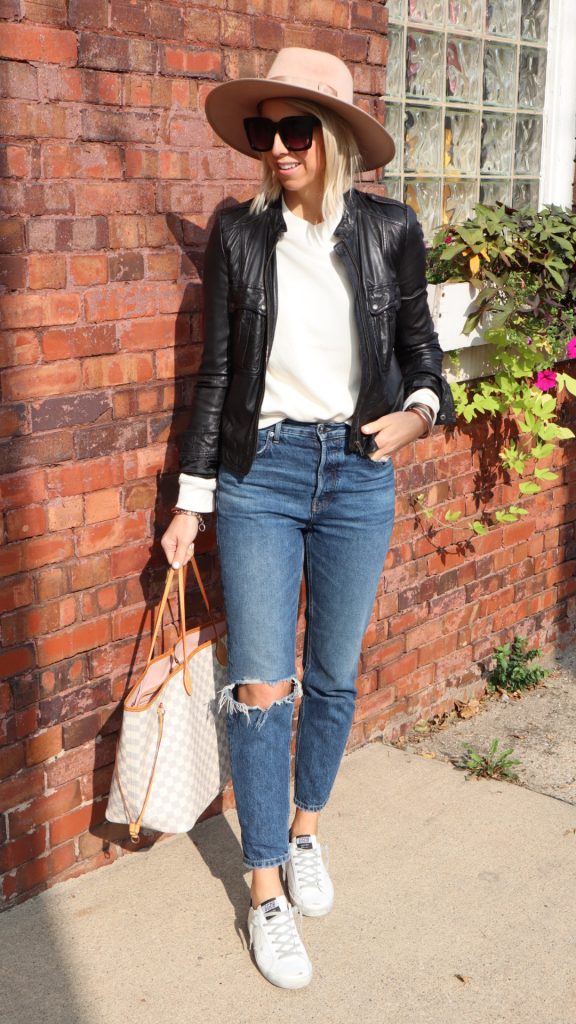 8. Sweatshirt
A cozy sweatshirt is the perfect top to wear then the weather gets cold. I like to think of it as the warmer long sleeve tee. This season's styles are slightly cropped to pair well with high rise bottoms ( I like to do a front tuck). Pair it joggers for a casual/lounge wear look. Or dress up your sweatshirt with a skirt and booties. Cream is good color to get since it's neutral and goes with everything.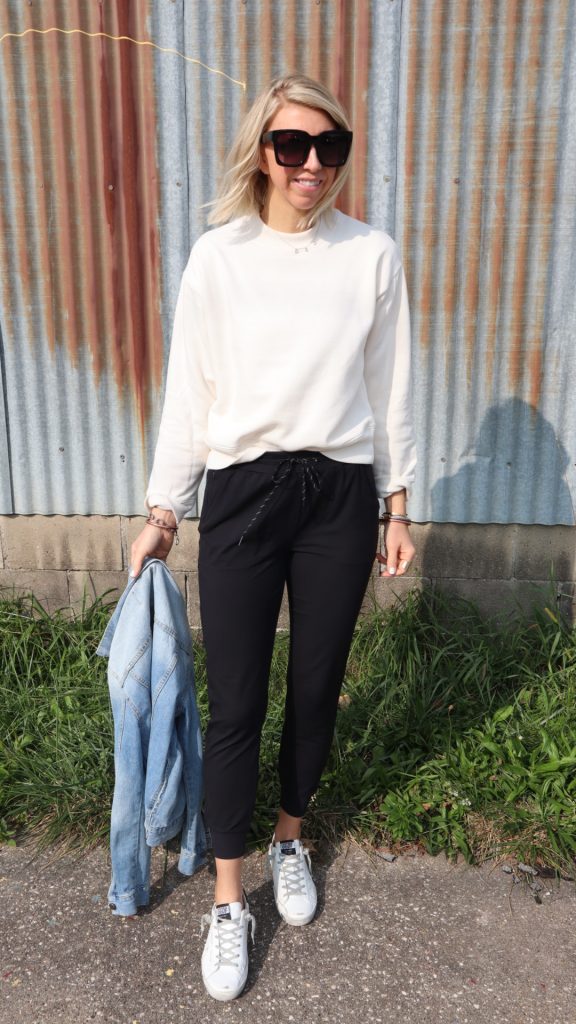 9. Statement Jacket
This is the outfit completer piece for your outfits this fall. A leather moto jacket, a denim jacket, a military jacket, or trench coat are all great options to have in your wardrobe. By simply adding a statement jacket with a basic tee & jeans, you can take your look up a notch. A great jacket will add polish, structure and sophistication to any outfit.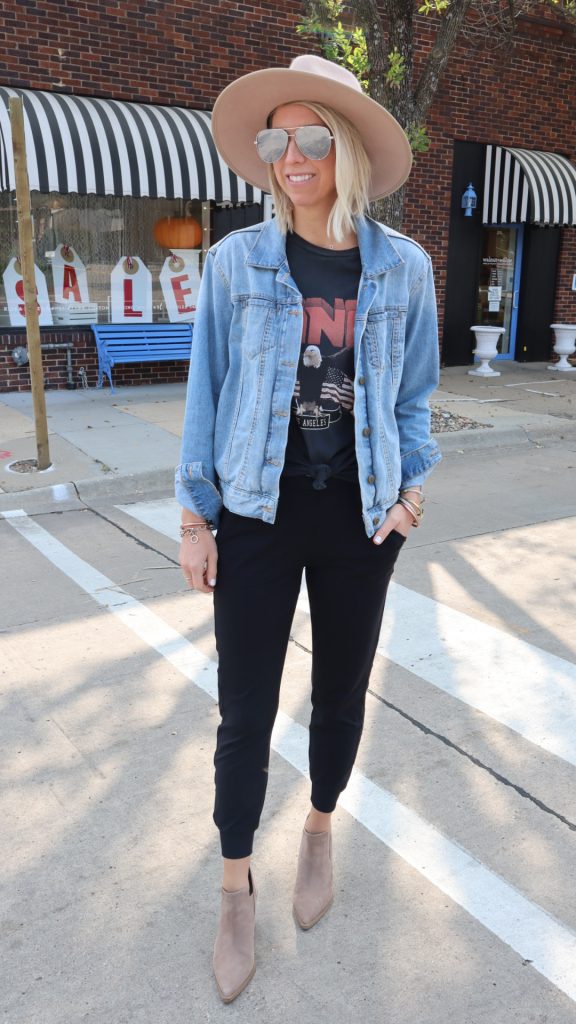 Denim Jacket (similar)

10. Wool Hat
My favorite way to complete an outfit is by adding a felted fedora or wide brim hat. It is the perfect accessory to take your outfit from basic to chic (plus a day five, hair saver). I love the combo to jeans, cardigan, booties, and a hat, as a go-to look for fall.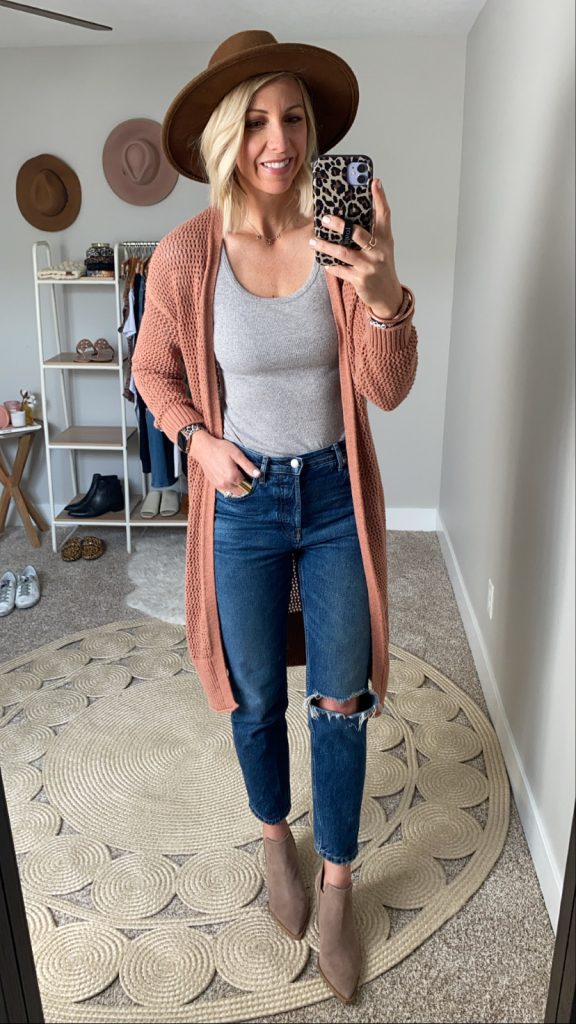 Learn how to create your own fall capsule wardrobe.
Wardrobe Basics: How To Style Joggers
Follow me on Instagram where I share daily outfit ideas, simple style tips, plus encouragement for living your best life.
XO, Sarah