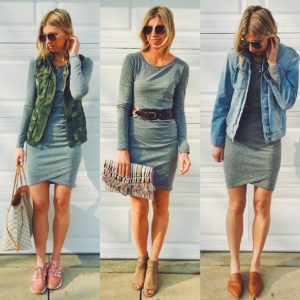 A simple grey dress like this one is a staple in my spring/summer wardrobe. I love how it is an instant, all in one outfit. Just throw it on and your out the door! AND if you want to change your look, it is so easy to add layers and accessories and totally transform this basic dress.
Here are a few different ways I styled a basic, grey, long sleeve dress….
Look #1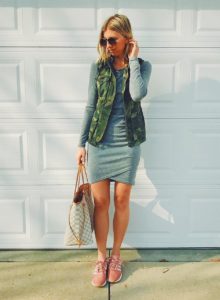 Dress / Vest / Sneakers / Sunglasses
*This sporty casual look is great for a day of running errands, a Saturday trip to the farmers market, or a day all the soccer fields.  Adding sneakers totally dresses down this look, and I love the vest a light layer for interest. Add a baseball cap if you don't have time or want to mess with your hair!
Look # 2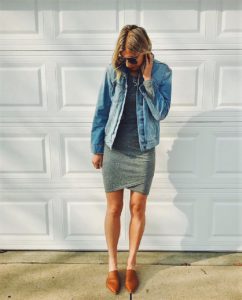 Dress / Jacket / Mules / Sunnies
* You can never go wrong with a classic denim jacket. Add a pair of brown leather mules for polish and this simple, yet put together look is complete. Wear this look to the office, a coffee date with friends, or a day of shopping.
Look # 3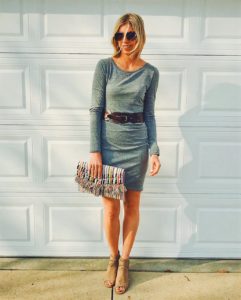 Dress / Belt (similar) / Clutch / Sandals 
* Dress up your outfit by adding a belt, colorful clutch, and heels/wedges. This look is perfect for a date night, girls night, or even a more casual wedding.
Stay tuned for lots more styling tips, and outfitting ideas like these one, where I style one basic item (i.e. a top, jeans, jacket, etc.) several different ways. I want to help you fill your wardrobe with versatile pieces that are easy to wear and style.
Blessings, Sarah