A pair of denim cut off shorts are a must for my casual summer wardrobe! It get's hot in the Midwest during the summer, so a go-to pair of shorts is on my radar every summer season. And as a mama I also like to wear shorts that are not too short, and that are flattering to my figure (A.K.A. NOT booty shorts) that are age appropriate for my lifestyle. I actually found the most amazing pair last year and wore them on repeat all season long, and decided to bring them back for another summer season, they are THAT good!
Here are a few easy, casual, ways to style a pair of denim cut off "Mom"denim shorts….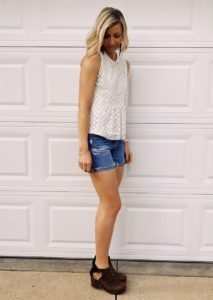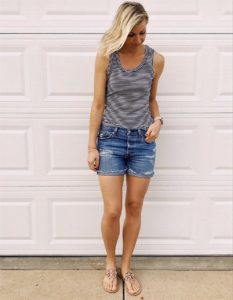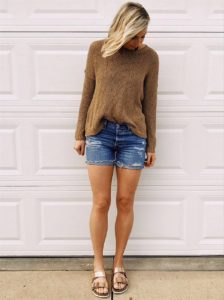 *Wear them to the pool or beach as a bottom over your suit, dress them up with a blouse and heels for date night, or pair them with a graphic tee, and sandals for everyday. Basically you can wear them for just about any occasion, which is why adding this super versatile bottom is key to completing your summer wardrobe!
Need some help putting together your ideal summer wardrobe?! One that helps you get dressed in just minutes everyday?! Freeing you up to enjoy your precious time with your family, and helping to feel put together and confidant?! Then let me help you curate your closet and cultivate a wardrobe that you truly love and fits your lifestyle and budget! Click HERE for more detailed info about my wardrobe consulting services.
Thank you for stopping by and following along!
Blessings, Sarah